In a fast-paced business world, effective and timely follow-ups after demos or meetings play a critical role in converting prospects into customers and nurturing lasting relationships. However, manual follow-up processes can be time-consuming, inconsistent, and prone to errors. The email following a demo serves as a crucial step in establishing a relationship with your prospect. The primary objective of this follow-up is to seamlessly progress to the next stage of the sales journey.
Rafiki's Generative PreTrained (GPT) AI-based Smart Follow Up™ is here to revolutionize the way you conduct post-demo/meeting follow-ups. In this in-depth article, we'll explore the challenges of manual follow-ups and how Rafiki's cutting-edge next-generation AI solution can help you overcome these obstacles.
Imagine you're a salesperson, and you just had an important meeting or demo with a possible customer. You want to send them a follow-up email to remind them of the value proposition points you made about the product and the great conversation you had. But with back-to-back calls, writing this email takes time and you end up postponing it. However, writing the follow-up later requires you to remember key points at the time of writing or requires you to take detailed notes during the call which takes focus away from the customer. Identifying key details from the call requires to re-listen to the entire call again, and with multiple calls during the day, this can cause delays and fatigue at the end of a long day.
Rafiki's Smart Follow Up™  Module can make this process super easy and fast for you! It uses GPT-based AI to write follow-up emails in your style that are perfect for each customer using the transcribed text, who spoke what,  key points, and moments from the call. In this article, we'll explain why writing follow-up emails can be hard and how Rafiki's Smart Follow Up can make your life much easier.
Why Writing Follow-up Emails Can Be Tricky
Time-Consuming: Writing a good email takes time, and when you have many customers to follow up with, it can be hard to find that time with back-to-back calls or at the end of the day.
Consistency: It's important to always sound professional in your emails, but sometimes it's hard to keep it consistently professional when pressed for time and focus.
Missed Points: Knowing what points to include from each call can be difficult, especially when you have lots of conversations happening in a day.
Missed Opportunities: If you don't send an email in a timely manner, you might lose a customer. With multiple calls and thoughtful responses to write, this can get postponed or result in a poor follow up
Mistakes: People make mistakes, and sometimes you might make obvious contextual points or forget to include important information in your email.
How does Rafiki's Smart Follow Up™ Help?
Rafiki's Smart Follow Up™ Module helps you write a quick, accurate, and consistent follow-up email by using advanced GPT-based AI. Here is how it works:
Rafiki reads our meeting transcripts and listens to your meeting or demo call and finds the most important parts, like what problems your customer has or what they liked about your product or any key trackers that you instructed it to track to be included in the follow-up.
It puts these important parts into an email and even adds links to the exact time in the call when you talked about them.
The email is personalized for each customer, making it more interesting and helpful for them but at the same time writes it in your style guided by your prompt.
You can review the email and add any additional attachment through your email server so it goes to your sent box
Smart Follow Up™ reminds you after the call is done and allows you to quickly and easily get back to the customer after a call without postponing it to the end of the day. Since the transcription, summarization, and follow-up with key moments are accurate you can rest easy that key points are being included in the follow-up and focus on your customer calls.
Now let's talk about some specific parts of the process and how they benefit you.
Important Moments in Your Call
Rafiki's Smart Follow Up™ finds the most important moments in your call, like when you talked about:
Your customer's problems
How your product helps fix those problems
Special features of your product
Pricing and budget
Key trackers, you might consider worth including
Benefits of Using Rafiki's Smart Follow Up™
Focus on Your Customer: You don't have to worry about taking notes during your call. Instead, you can really listen to your customer and understand their needs.
Quick Follow-ups: Smart Follow Up™ writes the email for you, so you can send it right after your call, even if you have a busy schedule.
Remember Everything: You won't forget any important parts of the call because Rafiki AI finds them for you as key moments with even timestamps.
Personal Touch: Your customer will appreciate the email because it's all about them and their needs.
Always Professional: The email is crisp and to the point and shows your customer that you are giving them full attention with your prompt responses.
Amazing Features of Rafiki's Smart Follow Up™ Module
Personalized Emails
Rafiki's Smart Follow Up™ writes an email just for your customer, based on the call that just concluded with key moments, making it more likely that they'll read it and respond.
Prompt Customization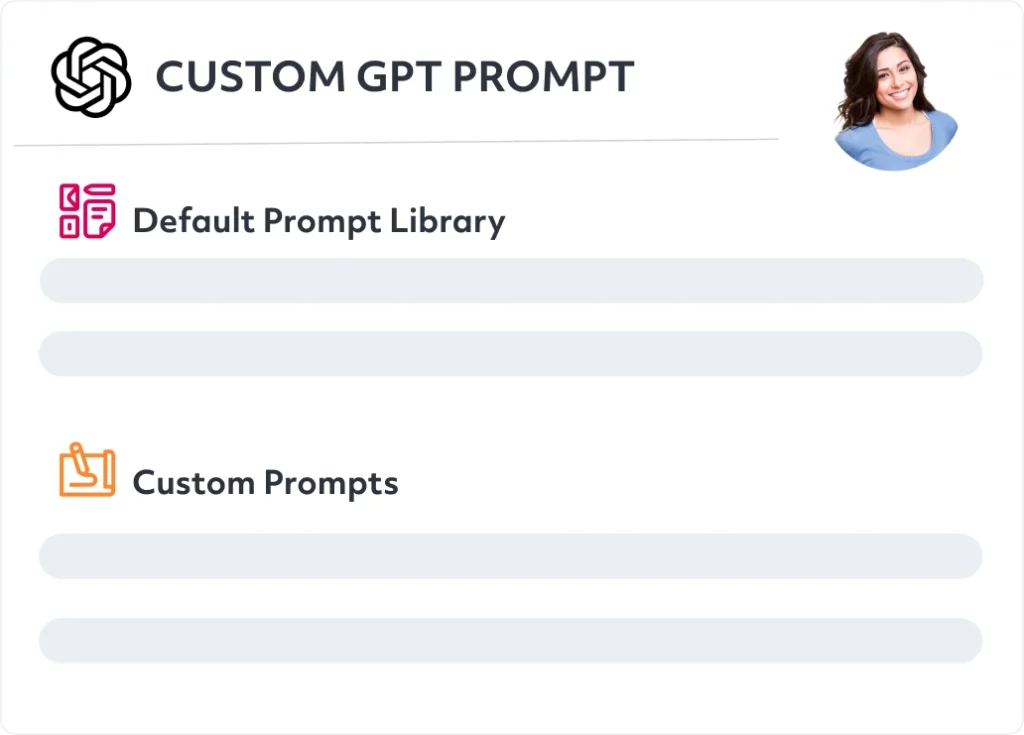 Create a customizable GPT prompt library within Rafiki. Utilize these prompts to automatically generate your follow-up email, complete with trackable, timestamped key moments.
Automatic Key Moment Tagging
Rafiki enhances the follow-up process by automatically tagging and time-stamping key moments from calls when generating follow-up emails. This ensures that essential aspects are addressed effectively and provides a clear reference to the exact point in the call when the key moment was discussed.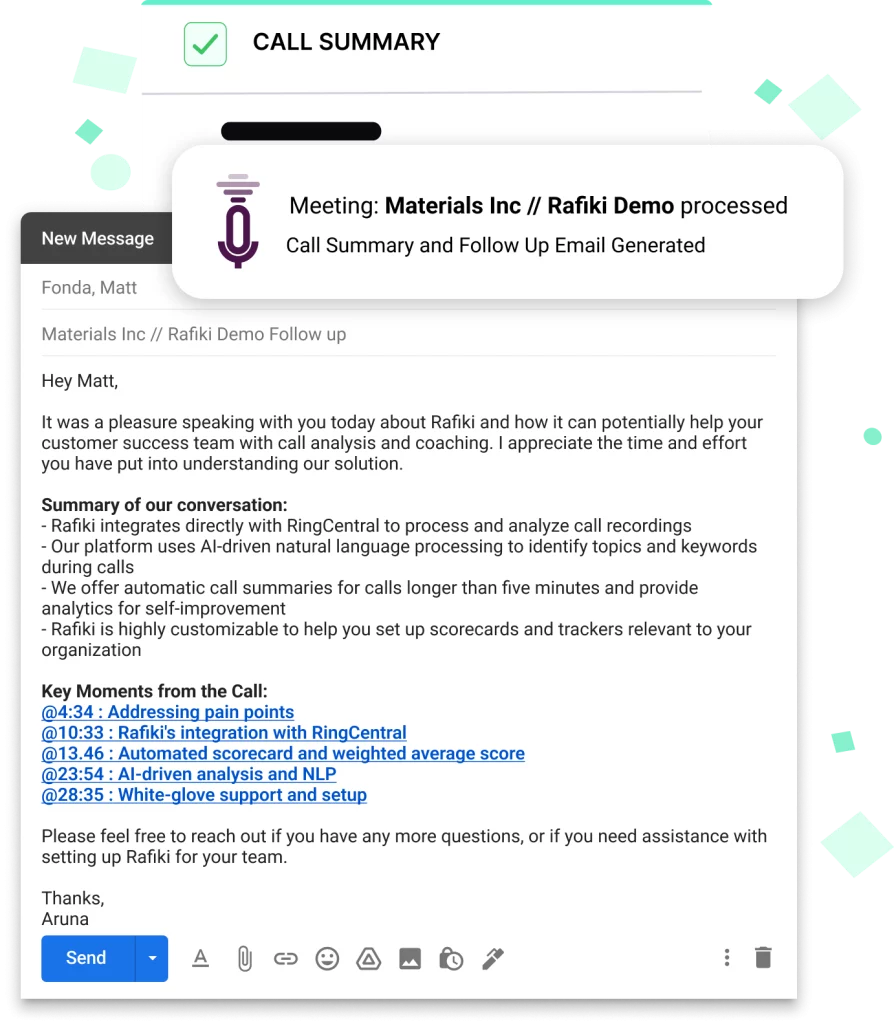 The timestamped key moments may include:
Prospect's pain points
Rep explaining how their product addresses the gap
Particular product features discussed
Pricing and budget mentions
How do we differentiate from the competitor?
By incorporating timestamped links for these key moments, Rafiki enables recipients to quickly access and review the relevant portions of the call, leading to more efficient and meaningful follow-up communications
Keep Track of Your Efforts
With Rafiki's module, you can see how well your follow-up messages are doing, like if people are reading them and responding. This helps you learn and make your messages even better in the future.
Works Well with Other Tools
Rafiki's Smart Follow Up™ can sync with your CRM or an email provider that you use, so all your customer information and communication is in one place.
Conclusion
Rafiki's Smart Follow Up™ Module, which uses GPT AI, is a great way to make writing follow-up emails super easy and fast. With this tool, you can focus on your customers during your meetings and demos, knowing that your follow-up messages will be perfect and on time, every time. Your customers will appreciate the personalized, prompt, and professional emails, and you'll have more time to do what you do best – helping people and making sales.
So, why not give Rafiki's GPT AI-based Smart FollowUp™ Module a try? It can make a big difference in how you connect with your customers and grow your business. Remember, happy customers make a successful business, and Rafiki is here to help you every step of the way!