It's 2021, and there is a faction of people who think that cold calling is no longer relevant. We really can't blame them. The truth is cold calling is not the same as it used to be in the 1990s. Things have changed a lot over the past 20+ years, including how cold calling is done. Many businesses have found great success and have accelerated their sales by embracing cold calling today.
Whether you are a huge conglomerate or a sprouting start-up, you can always rely on cold calling to gather new leads. Thanks to the improvement in techniques and the availability of powerful tools, cold calling is no longer challenging as it used to be before.
In this post, we will look at the top 5 free cold calling software presently available and why they should be a part of your cold calling tool kit. But first, let's begin with an easy question –
What is cold calling?
Cold calling is an outbound sales activity where the reps reach out to potential customers who haven't shown any previous interest in the services or products offered by the company. This technique also refers to the method of convincing a prospect to become a paid customer through a simple telephone call. Over the years, cold calling has improved in many ways, primarily on how audiences are targeted to improve the conversion.
Why is cold calling software used?
Cold calling software helps the sales reps and managers to conduct and manage cold calls effectively. If you are a sales manager, cold calling software helps to solve some of the key challenges faced by you. For example, without cold calling software, your team ends up taking notes manually. There are high chances that they will miss out on important points while this happens.
Similarly, in the absence of cold calling software, you end up updating the information manually on your CRM software. Again there is a possibility of human errors and information mismatch. Most cold calling tools can be easily integrated with your CRM
Without cold calling software, it is impossible for a sales manager to measure, analyze, and improve his/her team's performance. The manager has to sit with every SDR individually and manually analyze his/her performance. This is impossible when there are multiple SDRs in your team. For example, do you think it would be remotely possible for a sales manager to capture the below information manually?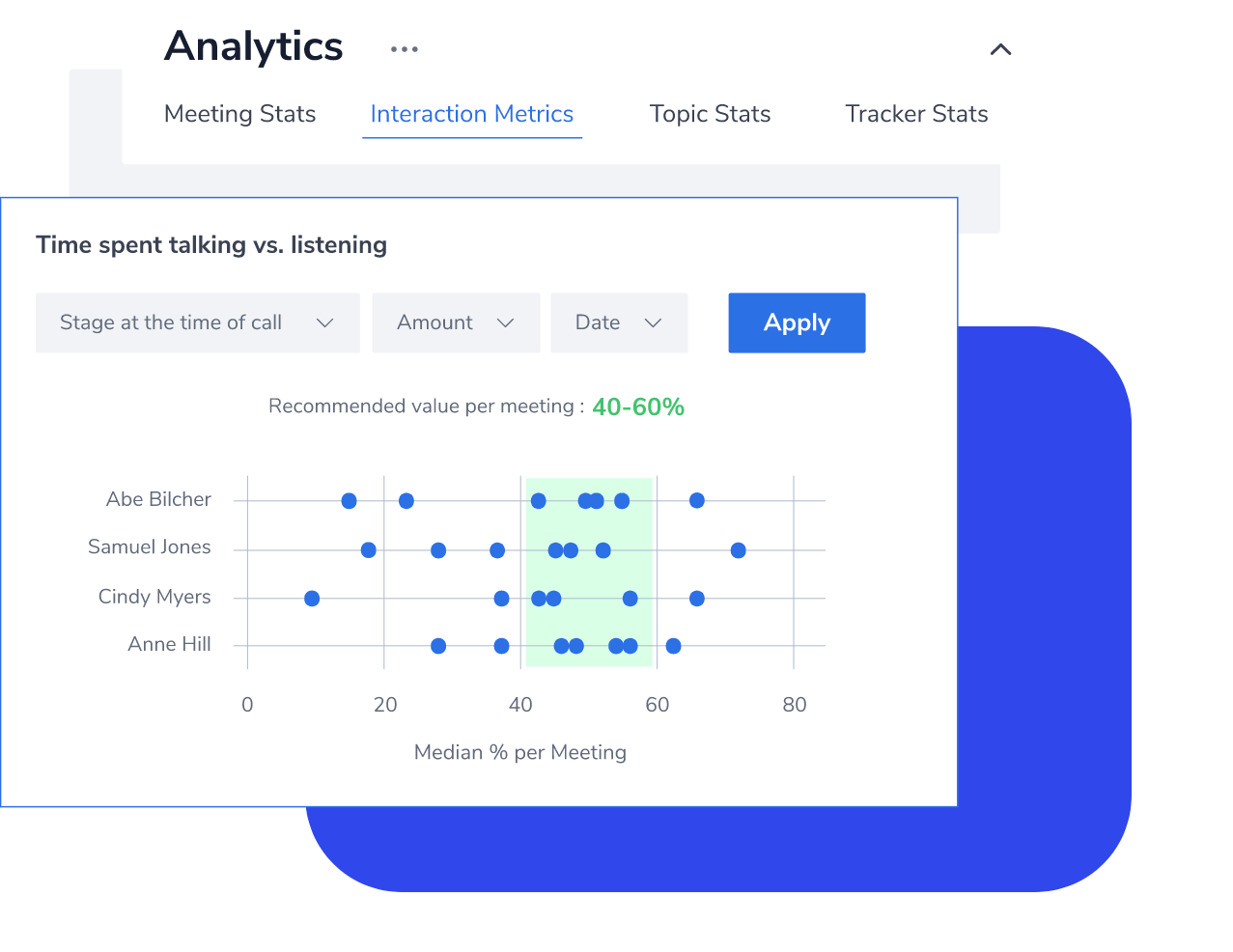 This is where cold calling software can help. All these manual steps can be avoided when you invest in a powerful cold calling system. Remember – as the sales leader of your business, it is your responsibility to minimize your sales team's effort and enhance their performance – a cold calling tracking software will be a great asset to help you with that.
Since there are hundreds of cold calling software available in the market, choosing the right one is crucial as it will play a vital role in achieving the desired result. The wrong choice can turn counterproductive to your business. We've made your life simpler as we have picked the top 5 free cold calling software currently available in the market.
Top 5 free cold calling software
Rafiki
Rafiki rightfully takes the top spot on our list. It is not only easy to use but also improves your sales team's performance in very little time. This AI-driven conversation intelligence platform helps you build a strong sales team by tracking your team's performance while they are busy handling sales calls. It comes up with intelligent insights on what they are doing right and where they can improve.
Rafiki Reduces ramp time by snippeting important conversations between the sales team and the clients. These conversations are compiled into playlists and shared with the enablement/ onboarding team. Rafiki proactively helps to build product marketing content and update battle cards as and when required.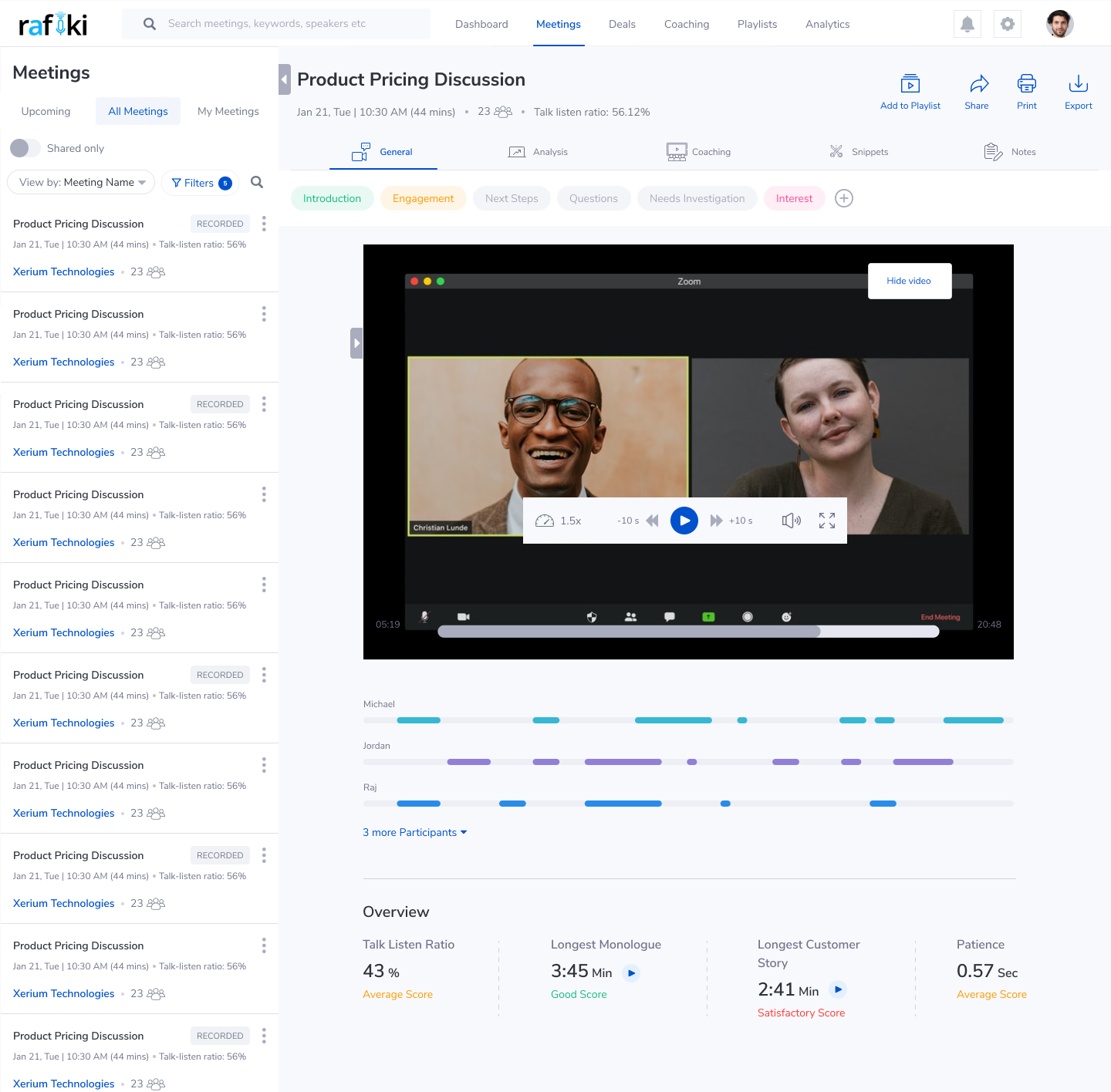 Myphoner
Myphoner helps your sales team to track and organize their leads by creating segments within the tool. It creates intelligent queues for your team based on the best time to contact them. This will greatly improve the chances of converting your prospect into a paid customer.
The best part with Myphoner is that your team will not spam the leads by calling them multiple times. It intelligently deduplicates the contacts in the system which prevents two SDRs from calling the same lead with the same pitch. Myphoner is also integrated with most of the popular CRM to create excellent customer profiles.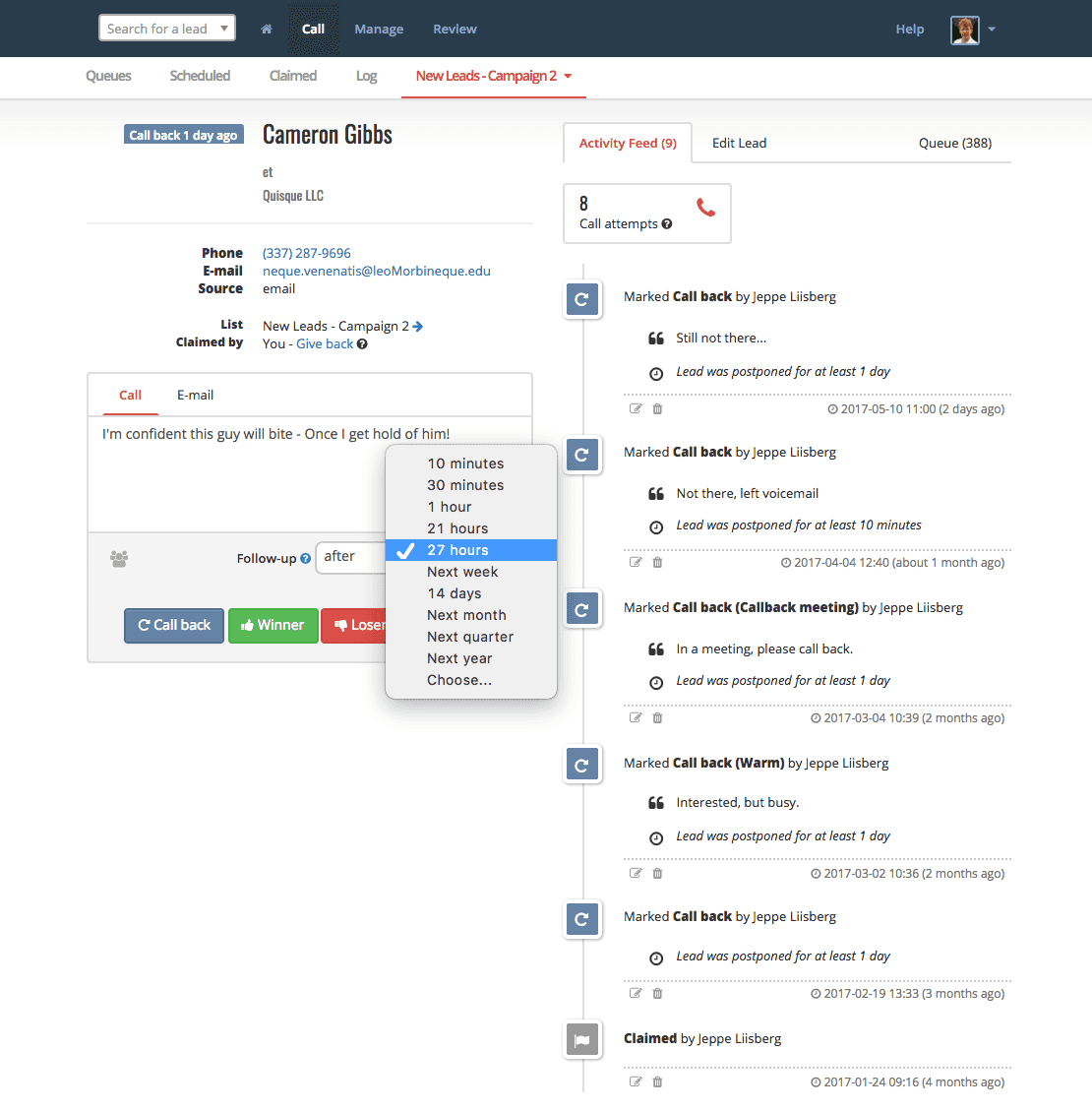 VanillaSoft
This is an excellent option if you manage a high volume of leads. It has a smart lead scoring functionality that lets you create your own formulas to evaluate leads. The tool also ensures that your SDRs talk to the prospects with the highest lead score first. The tool comes with a user-friendly dashboard that helps to track your team's performance in a single glance.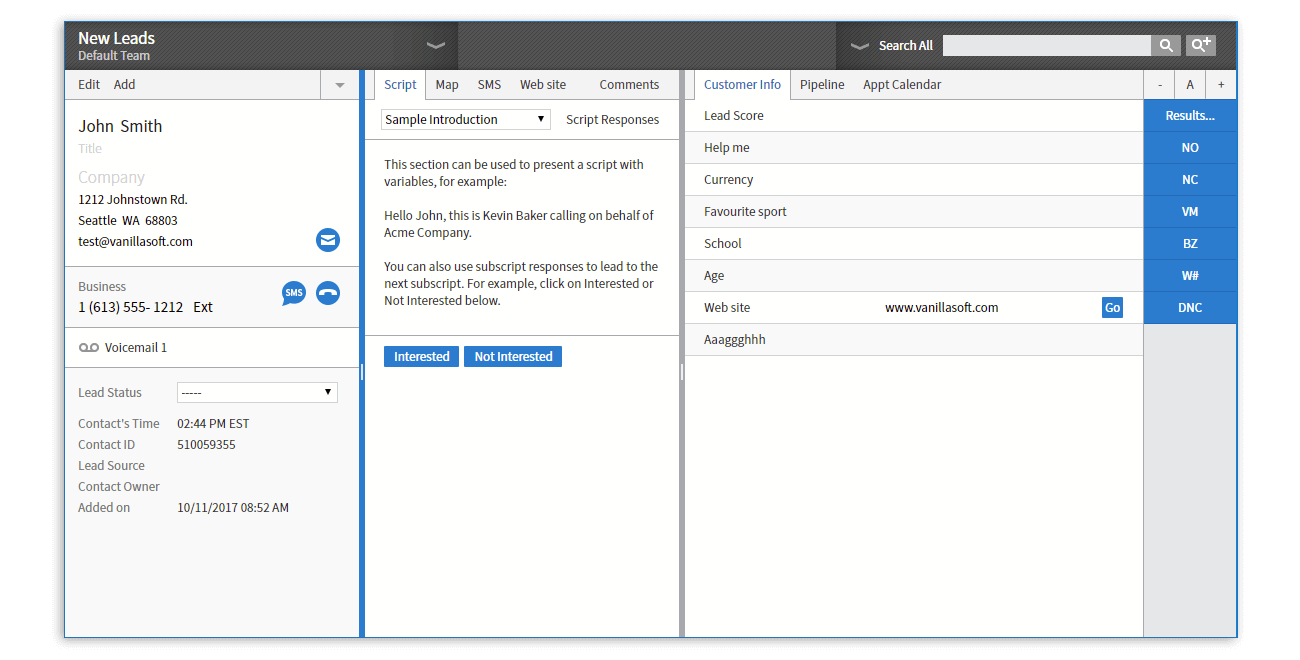 VanillaSoft comes with an auto-dialing feature and industry-specific solutions to make your team's lives easier. It comes with a free trial for up to six users who can access all the features without any restriction.
Toky
Toky is a cloud-based cold calling software that has an interesting call-forwarding feature that lets your SDRs take calls on the go. This ensures that they never miss an opportunity to be in touch with prospects. Toky also comes with a power dialer feature to let you build workflows around call campaigns. This in turn will help your SDRs to reach the prospects at the right time.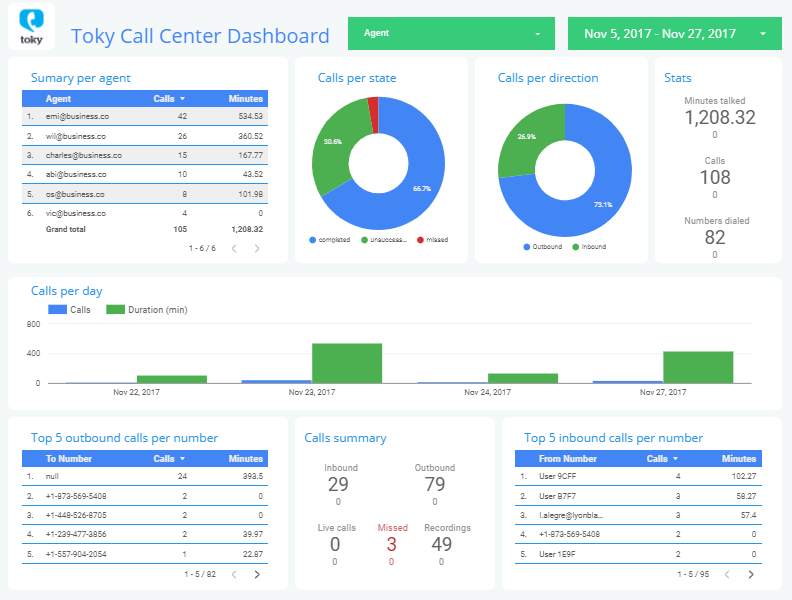 Thanks to Toky, you can not only segment your leads based on the campaigns, you can even group your SDRs to handle calls more efficiently. You can also monitor calls in real-time which helps with your training process.
Aircall
Aircall is known for its easy integration with most CRMs. Through the combination of Aircall and CRM, you can effortlessly create automated workflows and log calls. The entire process feels automated as your agents can skim through the call list in seconds without compromising on all the necessary prospect information. Aircall also comes with a power dialing and click-to-dial feature that helps your SDRs to get in touch with the prospects more efficiently.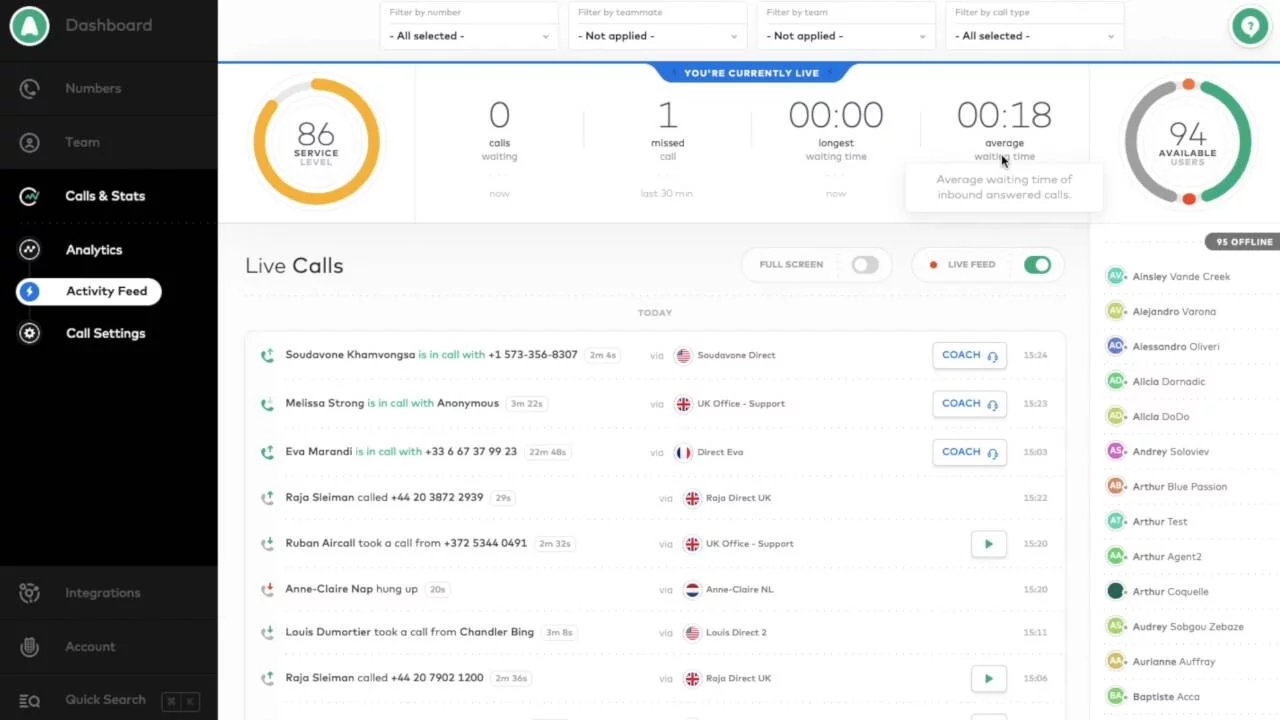 Aircall's powerful analytics engine helps to identify the performance of your SDRs instantly. You can even track the trends of different teams as well as look into the individual performance of an agent.
This leaves with the million-dollar question –
How to select the right cold calling tool?
Selecting the right cold calling app for your business completely boils down to your requirements. What features would you like to see in your cold calling app? We have compiled a few basic must-have features that should be present in a cold calling tool. This will help you filter out most of the cold calling apps out there –
It should have an autodialer feature or at least be integrated with an autodialer. This will help to connect with the leads instantly by making the calls directly from the software.

It should be easily integrated with a CRM. Having a connected cold calling application and a CRM helps the data to flow seamlessly between the two systems. This avoids any information mismatch or human errors.

It should be able to record and transcribe calls. Call recordings and transcriptions can be used for training new members or be used by existing team members and managers to see where they went wrong.

It should support call analytics since it is very important to understand the efficiency and performance of the sales team.

It shouldn't just track conversational topics but also offer advanced topic-level patterns. This will help sales leaders understand how successful reps talk, and what topics played an important role in the conversation.

This tool should offer an advanced deal risk analysis feature that will enable businesses to drive predictable growth.
What's Next?
If you're looking for ways to improve the quality of your outbound calls with a free cold calling software, then sign up for a free trial with Rafiki. All the must-have features discussed in this post are already present in Rafiki along with hundreds of other powerful features.