Electricity, Telephone, Computer, Internet, VoIP phone (Voice over Internet Protocol), Artificial intelligence…..
Guess what links the above, apart from them being an important part of our lives today?
Each of them was a key innovation in their own times and laid the foundation for many other innovations in the subsequent years.
As Tom Freston rightly says – "Innovation is taking two things that exist and putting them together in a new way" 
The invention of the internet and the corresponding developments (around it) made a significant dent in the way the world operated and eased people's lives in many ways. 
One such development is VoIP technology. When it was developed, it solved a key challenge – The rising costs of calls. Today it offers a lot more depth and comes with a myriad of features that can help a business.
In this post, we are going to answer every question that can come up on VoIP phone systems starting from what is VoIP phone to how to set up one.
What is VoIP Phone? 
VoIP stands for Voice over Internet Protocol. It is a telecommunication system that runs on the internet instead of the traditional cables we are more used to. VoIP was developed in 1995 and since then, it has become the most popular telecommunication service found in businesses across the globe.
In its initial days, VoIP phone systems found great utility in businesses where internal and external communications were unavoidable. Businesses simply could not predict the number of calls in a day or allocate a specific budget to it. And restricting the budget was never a good option as it curbed the free flow of employee communication. They wanted a solution that offered unlimited calls on a fixed budget. Thus VoIP became their go-to solution.
VoIP phones look pretty similar to traditional phones. They will have buttons for call forwarding, routing, queue, caller id, etc. They also come with many other features, like voicemail to email transcription, video calling, conference calling firewall, mobile extension, etc.
How do VoIP phones work?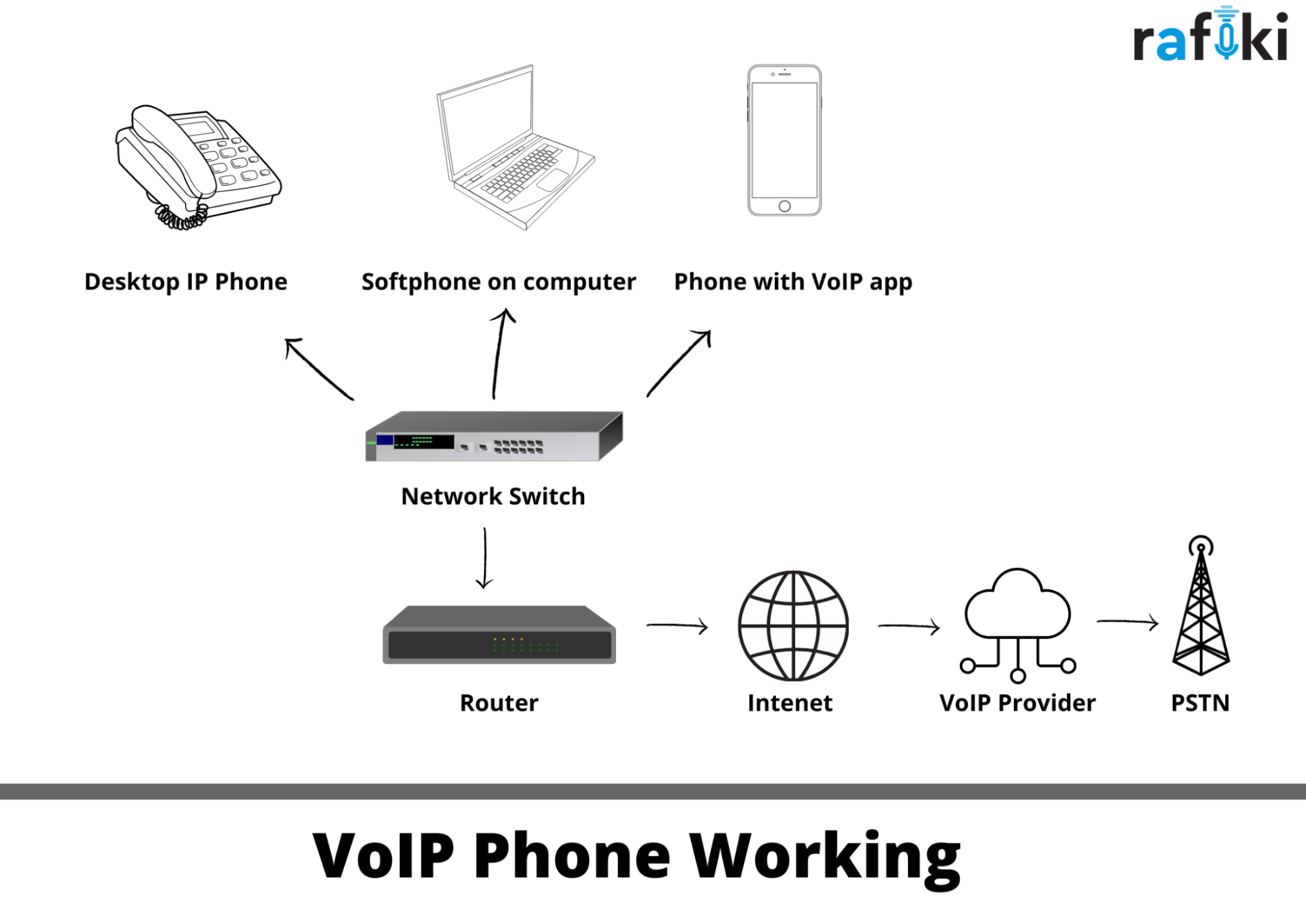 By now you know that the VoIP phone works through the internet. If you have a stable broadband connection with high bandwidth, it will be a perfect option for you. The codecs on VoIP phones convert your voice into a digital packet and transfer it over the internet via the router. Codec is a compression technology that is used to encode and decode files between the sender and receiver. In layman's terms – it's like a postman! It collects your voice, compresses it into a digital packet, and delivers it to the receiver. The receiver will decompress the data and convert it into voice. 
VoIP follows two important protocols to facilitate calls. They are:
Real-Time Transport Protocol (RTP):  It will deliver audio, video, or any media over the internet. 

Session Initiation Protocols (SIP): It is a signaling protocol that carries away the call by establishing, maintaining, and terminating between 2 or more users.
These two protocols help the VoIP system to transfer your audio, and video as a digital package and reconstruct it to its original form at the receiver's end, all in real-time.   
How to set up a VoIP phone system?
To set up a business VoIP phone service system, all that you need are:
That's all. If you're using the VoIP system through your computer or mobile, then you must use the provider's software too.
Depending on your requirements and budgets, choose a VoIP provider. If you're going for a self-hosted, on-site system, then you have to look for a Private Branch Exchange (PBX) phone system and also for a PSTN (Public Switched Telephone Network) gateway to link the PBX and the PSTN.
However, using such an on-site system has a drawback – you can't work from home or anywhere else – you have to be present in the office to attend a call or make a call. In this ongoing COVID pandemic situation, this will a challenging ask for you and your employees.
This is where a cloud-based phone system will help. In this, you can use the service from different cloud service providers, and you don't have to carry the PBX software on your server like the on-site system. You can make calls from anywhere and everywhere through a cloud server.
Some tips for setting up a VoIP phone system
Here are some handy tips to help you set up a VoIP phone system:
Tip #1 – It's better to ask your queries to your service providers before making purchases regarding devices. Even if you are not sure about how to set up a VoIP phone, ask them.
Tip #2 – An older device may not be suitable for the present-day VoIP system. So enquire with your service provider about the compatibility of your present device.
Tip #3 – Even if your device doesn't suit the system, you can use calling software from your desktop or softphone instead of purchasing a new gadget. Avsoftphone is a software-based client installed on mobile devices and computers.
Tip #4 – A good headphone and mic can help you access all the functionalities such as video calls, conferences, etc. of a VoIP phone system more effectively.
Top 3 VoIP phone services
Here are the top 3 VoIP phone service providers who have been considered the market leaders in the VoIP ecosystem:
Ring Central
RingCentral started its phone service in 1999 for small businesses. It offers an excellent work-from-home solution with features like integrated messaging and unlimited video conferencing. The best part is it is a fully cloud-hosted VoIP service. RingCentral promises a 99.999% uptime clearly indicating that any employee, irrespective of where they are located can rely on their VoIP system completely. Other popular features of RingCentral include unlimited calls within the US and Canada, a toll-free local number, automatic call recording, and inbound caller ID. It serves more than 100+ countries and offers voice menus in 10 different languages.
Rafiki can be integrated with RingCentral now.

8X8
8X8 is another popular VoIP service that is known for its low-priced plans and cheap international calling rates. 8X8 can be integrated with third-party business applications like Salesforce, Zendesk, and Netsuite. You can also integrate it with Rafiki to gather intelligent insights from your SDR's call performance. All 8X8 plans come with team messaging, HD videoconferencing, and a screen-sharing facility. 
Rafiki can be integrated with 8X8 now.
Zendesk Talk
Zendesk has over 200,0000 users including Shopify, Slack, and Uber. Users can use Zendesk Talk to integrate with an existing call center platform or use it as a standalone voice calling tool. It comes with three paid plans (and a free one!) that you can choose based on your calling needs. Some of the popular features of Zendesk Talk include interactive voice response, business text messaging, voice mail, call recording, dashboards, and reporting.
Rafiki can be integrated with Zendesk Talk now.

Where does Rafiki fit in your VoIP system?
Rafiki is a conversation intelligence platform that can be integrated with your VoIP systems and dialers using its intuitive plug-and-play facility. It not only records your calls but also transcribes them using AI technology to help in your follow-up call prep. As an agent, you can quickly compare your calls with the best agents in your organization and see where you can improve.
Rafiki provides instant call analysis about your next steps, competitor mentions, objections, questions, and more. It simply knows when to listen, when to record and when to extract notes from your calls. It even pushes the data to the right deal in your CRM. Sounds incredible right?
That's what Rafiki can do for you!
Check out its pricing plans or sign up for a free trial here.