The COVID-19 pandemic forced companies to quickly transition to remote work in 2020 to maintain business continuity. Since then, virtual meetings have taken on a life of their own. So, virtual meeting etiquette is especially important to keep things professional. 
In 2020, Zoom had 300 million participants per day!
Online meetings are not new, but they are vital now since they help keep remote workers engaged and productive. Sales professionals use video conferencing to speak to prospects, conduct demo meetings, and communicate with co-workers. 
Virtual Meeting Etiquette
Videoconferencing and traditional face-to-face meetings accomplish the same result, but they are distinct channels of communication and have specific challenges.
Thus, it is important to be aware of these 11 virtual meeting etiquette rules and avoid embarrassing gaffes:
1. Prepare an agenda
You can extract the most out of an online meeting by setting an agenda and sending any slides or material before the meeting.
Meetings are more productive and professional when all participants are aware of the discussion items. It keeps participants engaged and ensures that important items are not missed.
Also, following an agenda will prevent meetings from extending too much. This respects everyone's time, especially parents who are juggling childcare and work.
2. Dress appropriately
One of the perks of remote work is that you can wear casual, comfortable clothes. However, it is unprofessional to turn up for a video call in pajamas and unkempt hair.
Dress appropriately in workwear (and don't assume people can't see you from the waist down).
Clients will judge the way you present yourself–from the way you speak to how you dress. Also, dressing well will put you in the mindset for productive work.
3. Have an appropriate background and surroundings
You may not have the space for a home office but that doesn't mean that you cannot keep your background neat and presentable.
How can you expect prospects to take you seriously or pay attention to what you're saying if there's an unmade bed or dirty laundry in the background?
Keep these pointers in mind:
Set up your camera such that there is a wall in the background. No beds, closets, or any objects you wouldn't be comfortable with in an office setting.

Make sure you face a window to get natural light or use a space with good lighting.

Understandably, everybody is at home due to the pandemic. But attempt to reduce distractions as much as possible. Request the household to be quiet during your calls.

If it is not possible to keep your surroundings neutral, you can use software to blur your background or use a custom background.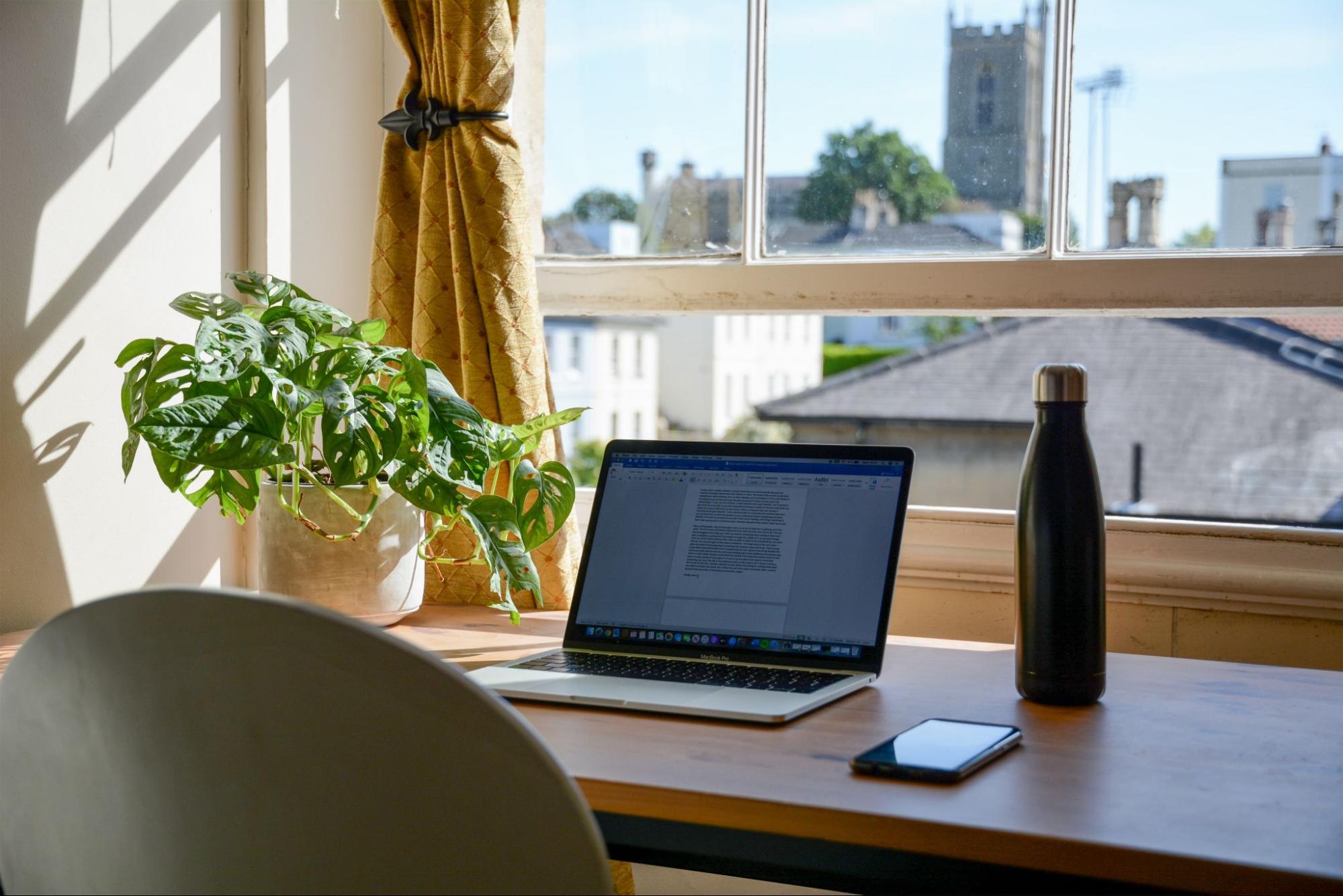 Photo by Mikey Harris on Unsplash
4. Mute microphone when not talking
It is good online meeting etiquette to mute your microphone when you're not talking so that your background noise does not disturb the speakers.
If you develop a habit of muting yourself during meetings, you can avoid embarrassing situations where your prospects or co-workers hear you (or a family member) say something inappropriate.
5. Don't eat during meetings
Or at least turn off your audio and video and inform your co-workers that you're taking a break.
Nevertheless, avoid snacking during meetings because it hinders your concentration and disturbs other participants.
Do we even need to say how unprofessional you will look if you're munching during a call with a prospect?
6. Start with introductions
It is considered rude to enter virtual meetings and fail to introduce yourself. Good virtual meeting etiquette demands that you say hello and announce your name.
But remember not to interrupt someone or speak over somebody–it leaves a poor impression of you.
If you're the host and the participants are not familiar with each other, have a round of introductions before starting with the agenda items.
7. Test your setup beforehand
A good way to respect other people's time (and avoid wasting time fixing technical issues) is to enter the meeting a few minutes early.
This gives you a chance to check if your camera and microphone are working properly.
You can also fix any issues with lighting or background before the meeting starts.
8. Look at the camera, speak clearly, and be present
It is difficult to pick up body language cues on video calls or to look at everyone at the same time. Help your prospects and co-workers hear you well by looking directly at the camera and speaking clearly.
Don't try to multitask during a meeting as you might miss something important. Project positive body language, sit up straight, and don't make sudden movements. Other people will not be able to see you clearly.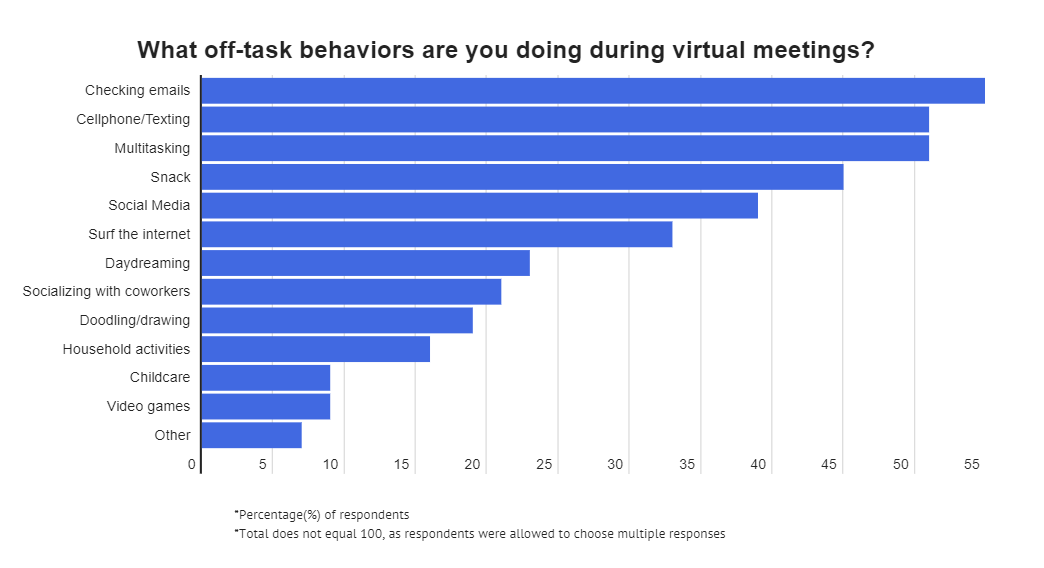 Source: Zippia (2020 survey)
9. Do not type on the keyboard during meetings
The microphone on your computer is very close to the keyboard, so if you answer emails or type notes during a meeting, it will disturb everyone. It will also prevent you from paying full attention to the meeting.
Use a pen and paper and a headset to avoid distractions and take notes.
10. Protect sensitive or confidential information
If you're going to be using screen-sharing tools to collaborate during an online meeting, remember to remove sensitive or confidential information from your screen.
Turn off notifications and keep your desktop neat and clutter-free.
11. Plan an effective wrap-up
This tip is useful if you're hosting a meeting. Ensure that everyone is on the same page by wrapping up the meeting with a summary of the discussion and action items.
Do's and Don'ts in Online Meetings
| | |
| --- | --- |
| Do's | Don'ts |
| Ask for the agenda and prepare accordingly | Come unprepared or come up with irrelevant points |
| Focus just on the meet | Do other work simultaneously |
| If you share space then let others know you are in the meeting | Don't keep quiet especially if ideas are expected from you. |
| Mute all your notifications | Whisper or talk with people around you |
| Log in to the meeting 5 minutes ahead | Don't join late and leave early |
| Always log in with your video ON in one-on-one meetings | Stay invisible during the entire meet especially when you are the only other participant |
| Stay muted when you are not speaking | Use multiple devices |
| Speak slowly | Raise your voice |
Final Thoughts
When all participants are aware of virtual meeting etiquette, a business can be conducted more efficiently and productively. What is most important is that you be fully present at every meeting irrespective of whether you're muted or not.
Rafiki is a revenue intelligence and conversation intelligence platform that can help you organize and derive insights from your sales calls. You also receive instant analyses of your calls that include topics that generated the most discussion, the most common customer objections, and areas for improvement based on data.
Contact us to know more about how we can help you.