Let us begin by quickly defining a business meeting –
"It is simply a gathering of two or more people with an objective of making decisions or discussing company goals and operations."
It doesn't matter whether your organization has 5 employees or 5000 employees; a business meeting is an unavoidable step in getting things done in an organized fashion.
In the past, most of the business meetings were conducted in person in the office. But with the advent of the pandemic, meetings completely shifted to a virtual model and were conducted via conference tools such as Zoom, Google Meet, or Microsoft Teams.
Types of Meetings
There are a wide variety of meetings, and each of them has a very specific objective. In this post, we will look at the nine most popular types of meetings and why they matter to a business –
Decision-Making Meetings
Making the right decision is crucial to any organization's success. To help an organization with that, decision-making meetings come in handy. In such meetings, the entire team would be present. The main objective of this meeting is to discuss the course of action for a project or to make some important decisions after consulting with the team.
Team members would typically offer their views on a topic, and the team leader would take in all the available information and evaluate all the data before finalizing the decision. Sometimes the problems will be more detailed and would need additional expertise. The team leaders would then invite subject matter experts who can help them fill the blind spots.
The meeting will ideally end with the leader choosing a decision and clearly explaining the path that they are going to take to finish the project. They will also clarify who handles what activities in detail. A good decision-making meeting is characterized by teams feeling confident about the chosen decision.
Scrum Meeting
This is a daily scheduled meeting that is often run by engineering teams. However, these days, the most operationally active teams run these meetings. These meetings are usually held daily or once a week. Like decision-making meetings, all the team members are usually present in this type of meeting. Every team member will share their respective progress in a project that they have been assigned to. They will then go on to explain whether they have accomplished all their sprint goals as per plan or not. Sprint is a short time frame within the larger project timeline and scrum meetings keep the focus to the sprint.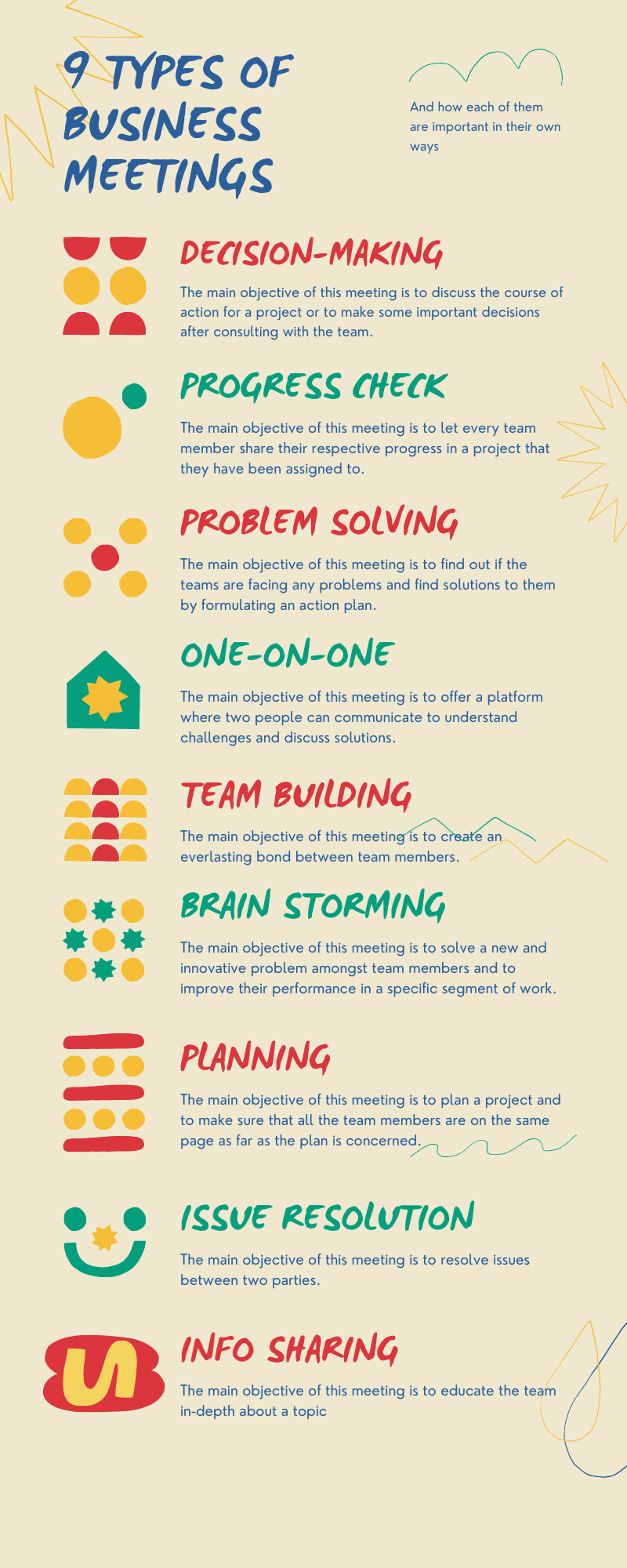 Any Scrum Meeting is characterized by the below three questions –
What did you do yesterday?

What will you do today?

Are there any impediments in your way?
All Scrum meetings are governed by 5 core principles. They are –
Complete control over the empirical process – Transparency, evaluation, and adaptation are the core ideologies of Scrum meetings.

Self-organization – increases the independence of the entire team, which also assists in assessing their performance during these meetings.

Collaboration – Awareness, and clarity in team members become critical during every meeting.

Value-based prioritization – Every task is prioritized and assigned based on the value to the end-users in these meetings.

Timeboxing – Every meeting is limited to a maximum of 15 minutes (in the case of a daily meeting).
If the team members are lagging behind in a goal or haven't shown any significant improvement on the project, there will be a discussion on what is lagging behind, the reason for it, and the next steps to sort things out. The managers would provide whatever resources necessary to accomplish the goals on time. Such measures would help everyone perform their job to their best potential. These meetings are headed by a project manager.
Problem Solving Meeting
As an organization, you would run into various problems, and these meetings will help you to overcome those. In these meetings, usually, only the teams that are facing any problems would participate, and never all the teams. However, if there are people in the other teams who can offer a solution to the problems, then they are invited.
Usually, these meetings are led by a person with diverse knowledge, background, skills, and opinions. There might also be people who are new to the team but are experts, hence will have the capability to lead such meetings.
The meeting starts with reviewing the situation –
What resources do we have to solve the problem?

What led to the start of the problem?

What is the current status of the problem?
The participants then analyze the options to solve the problem and formulate an action plan. These meetings help companies to solve pressing problems and build a commitment to bring the desired results.
One-on-One
As the name implies, this meeting takes place between two individuals. The relationship between these two people plays a major role in the importance of this meeting. One-on-one meetings usually feel like a normal conversations, but they help to fulfill a specific purpose.
Some variations of one-on-one include –
Meeting between a worker and a leader where the leader will try to understand the worker's problems and help solve them.

HR and Employee meetings related to appraisal, skill development, and mentorship programs. These meetings usually have a huge impact on employee satisfaction.

Meetings between two leads of different departments trying to build synergy between their two teams
Team building meeting
Having a strong team will always boost a company's growth. The company would work to its highest potential if all the members of the team build trust in each other and worked together. Usually, every meeting has the potential to create everlasting bonds between team members. But having a dedicated team-building meeting would strengthen the bond even further by creating an enjoyable experience around them.
Team building meetings are usually fun, as they include a variety of games, group activities, and talent showcases. All these will help the participants to come out of their cocoons and build friendly relationships with the team. It also makes them feel valued.
Brainstorming meeting
This is an interesting kind of meeting. People's designations are kept out of the room for these meetings; literally, anyone can pitch their idea. However, a central person (a randomly chosen person) runs this meeting and picks a premise like marketing activities, or design activities. This will be followed by people coming up with different ideas and how it benefits the premise in the best way. Companies usually run this meeting to solve a problem, or to improve their performance in a specific segment of work.
However, such types of meetings are not without cons. For instance, most of these meetings can take time; it could be hours, or even days before a solution is reached. Since these meetings are open-ended, they can go on and on for hours, reducing the return on time invested by people. Hence, It is important that the meeting organizer timebox all these meetings.
Such meetings can also get very one-sided. People who speak more or louder can shoot down their colleagues' ideas and might outvoice others even though their ideas might not be as great as their colleagues.
Planning Meeting
Planning meetings can occur in various formats. Most of these meetings begin with the project owners laying down the plan. The people attending the meeting must know what the plan is and should try to learn as much as possible about the project before entering the meeting room. Once the plan is laid down, analyses of the present situation and what improvements can be done are discussed.
The relationships of the participants don't matter in these meetings as it is strictly kept professional. These meetings can be stopped at any time, and everyone can feel free to talk about their concerns about an idea. Also, since the plan is at its beginning stages, it can be dropped off anytime. The planning meeting usually ends with the acceptance or rejection of the plan.
Issue resolution meeting
This meeting's primary agenda is to resolve issues between two parties. The meeting will also include a third party who acts as a mediator between the two. Sometimes, it can also take place without the mediator, where either one of the parties can lead the meeting.
In such meetings, the participants go through a list of issues/tickets and address them one by one. The mode of engagement can differ based on the situation. If there is a possibility of a heated situation, then the meeting should be held in a structured manner to make sure that proper order is maintained throughout the meeting.
A few examples of issue resolution meetings include contract negotiations, renewals, support team escalation, project delays, etc.
Info sharing meeting
Information about a project is shared in all types of meetings. However, dedicated info-sharing meetings educate the team in-depth about a topic. The training or the information is usually shared by the subject matter expert. The meetings are held in many forms like training, presentation, lecture, or a debate. It can also be a one-on-one session or an entire team training session.
The expert will try to keep the meeting light and build rapport with the audience. In the end, the team would benefit from learning various key information about the project which improves their efficiency and enables them to serve better in the project.
Tracking and Analyzing Meetings with Rafiki
Rafiki is an AI transcription system that records, transcribes, and tracks your meetings for you and your team to refer to for future meetings. Rafiki frees you and your team by taking away all the chores related to conducting a meeting. This includes syncing with the team's calendar, conducting the meeting within the same platform, following all compliance rules, recording to the secure cloud (that is SOC2 compliant), and sharing key snippets from meeting with other stakeholders. More importantly, the notes taken by Rafiki are consistent in terms of format. This makes it extremely easy for you to compare notes across meetings.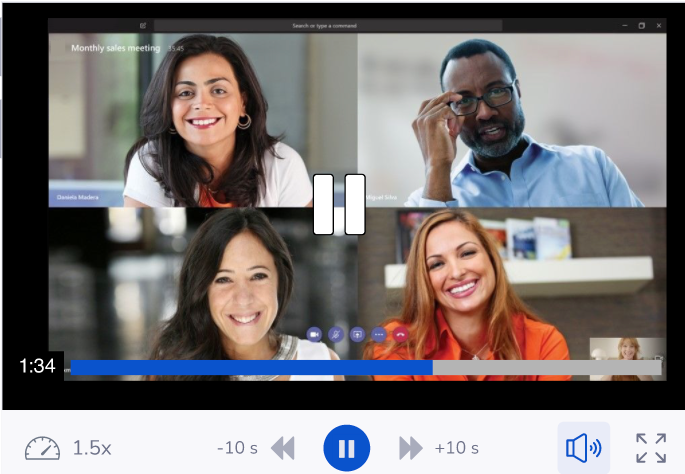 The best part is Rafiki seamlessly integrates with Google Meet and Zoom, ensuring that you do not have to switch platforms to access meeting tools, recordings, notes, and insights – All for under  $25/month paid annually.