"Yes, we're in"
To hear such affirmations from the prospect – a sales rep has to face a string of obstacles. It is an indispensable part of any sales rep's life.
Nobody can really predict the exact objections that can sprout during a sales call.
But there are some very common objections that find a place in most calls.
When you know them, you can prepare to handle them well.
To help you, we have listed down some of the most common objections your client could make in your sales pitch along with the ways to overcome them.
But first, let us start with a very simple question –
What is a sales objection?
Simply put, sales objections are the reasons given by your client when they think they can't purchase your product or service. In most cases, the objections won't be a simple "No". They are always followed by a reason. As a sales rep, you have to analyze the reason behind their objection and modify your pitch instantly to keep the customer interested.
It is important for you to remember that objections are not really a deal-breaker. It shows that the client is actually interested in your product but is not happy with one or more aspects of it and is looking for any workarounds.
Brian Tracy, the famous motivational speaker rightly says –
"Treat objections as requests for further information"
4 types of sales objections
A successful sale is all about delivering the right product at the right time to the right place. Even if one of them goes wrong, it can lead to objections. On that note, here are the four categories of objections that you can typically face in a sales call –
Lack of Budget
One of the most common sales objections is related to the pricing of your product. Either the company won't have a dedicative budget or may not have a clear understanding of the ROI of your solution. It is not very uncommon to hear statements like –
"We don't have the budget right now."
"Your product doesn't fit our budget"
As a sales rep try to break down this situation – previous research will help!
From your research, if you find that your client has a budget, then you have to emphasize the value of your product more clearly. Make them visualize the reward for owning the solution you offer. This will justify your price and convince them to proceed with the purchase.
Lack of Trust
Most sales experts will vouch for this – "Sales is all about trust". Without building trust with your clients, you can't achieve your desired sales goals.
Before you bombard a client with your sales pitch, ensure that they're aware of your product and about your company. Otherwise, you are going to hear the statement 'We're not aware of your company' more often than you want.
Start from scratch. Build your trust slowly. Make them read about your solutions and companies in the form of blogs and case studies. Communicate through emails before you actually move on to your sales call.
Lack of Need
"I don't think this will suit us." – Whenever you hear this statement from the client, do not think of it as the end of the road. More often than not, the client needs your product, they just don't realize it. Or, they haven't understood your product correctly.
The only way to know is by asking them specific questions like –
"What additional features in our product would have made you adopt our solution

"What specific pain points were you looking to solve with our product?"

"If we offer solutions to those problems, would you consider us?"
Evaluate their answers and try to offer them alternative solutions if your product can't solve their challenges. If they still continue to resist your solutions, then it is time to move on to another client and not waste your efforts on them.
Lack of Urgency
Even if the client needs your solution, there is a possibility that they might not need it right away. They will come up with an objection like "Your product is not on our priority list right now".
If that happens, try interpreting their objection without countering back. The answer will tell you whether the client has some other reasons or genuinely doesn't look at your solution as a priority.
If they really do not need the solution right now, ask them if there is a chance they might need it in the future, and if yes, when. It is important not to sound too pushy while asking these questions.
4 most common sales objections and how to respond to them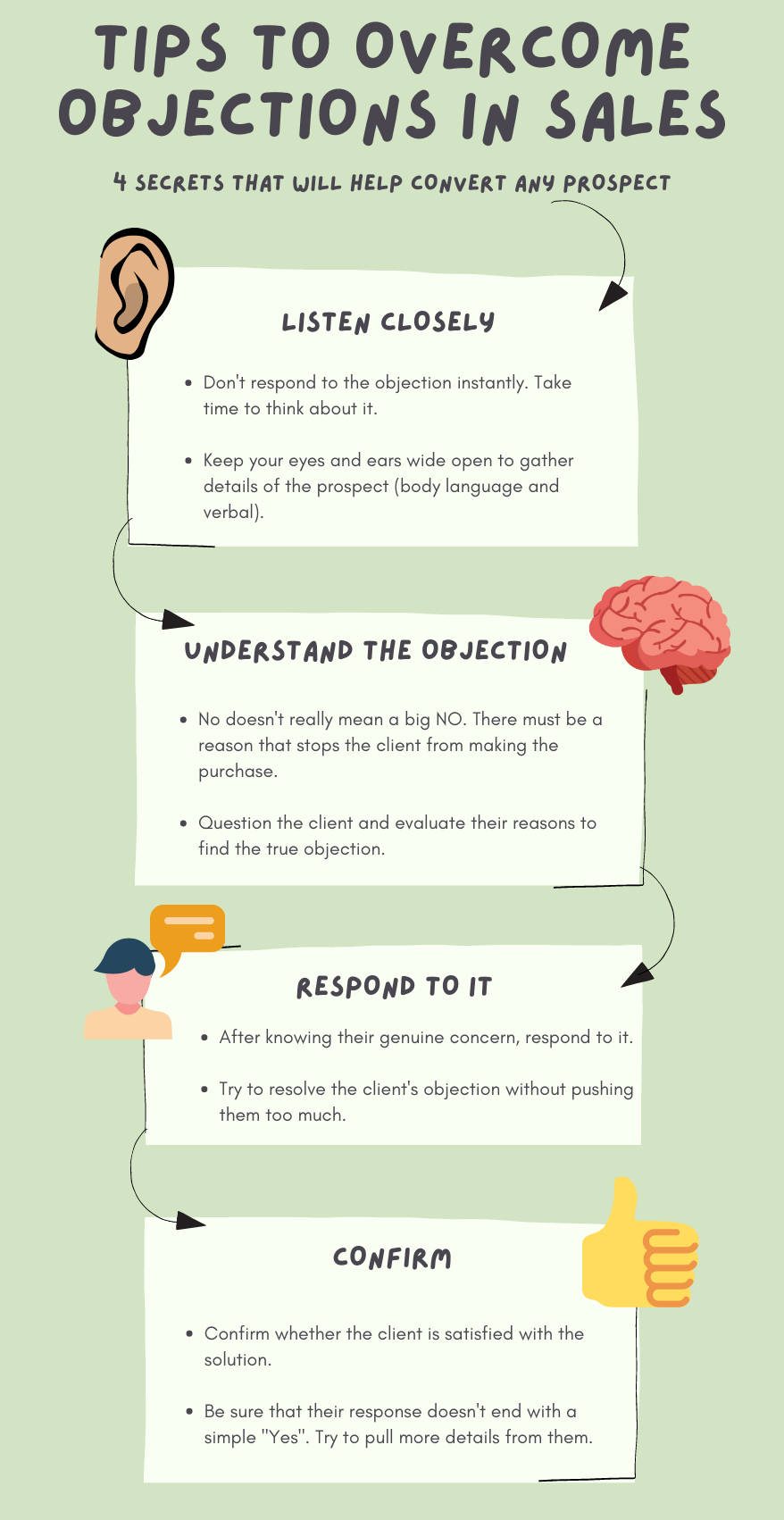 So far we have seen the types of sales objections. Now it is time to get into the specifics. We will look at the most common sales objection statements and how to navigate across them –
"Call me back later"
No one wants to get disturbed. Period. A very common sales objection that you hear when prospects want to avoid you. To counter this try borrowing a couple of minutes from them. See if you can quickly qualify them. Check if they have an interest in your product or not.
Here is a conversational template you can try –
"I'm happy to connect with you later. However, could you give me just a couple of minutes to explain what we do and how we could help you? If you're interested, then we can schedule a meeting later on. If not, I don't want to waste your precious time by making further calls."
As a sales leader, see how your reps are handling it. See if your reps are taking time to think about it. Rafiki tracks this factor "Patience" by showing how long your reps wait to respond. This, in turn, reduces anxiousness and makes one look composed". This factor can be tracked over time to see if you are within range.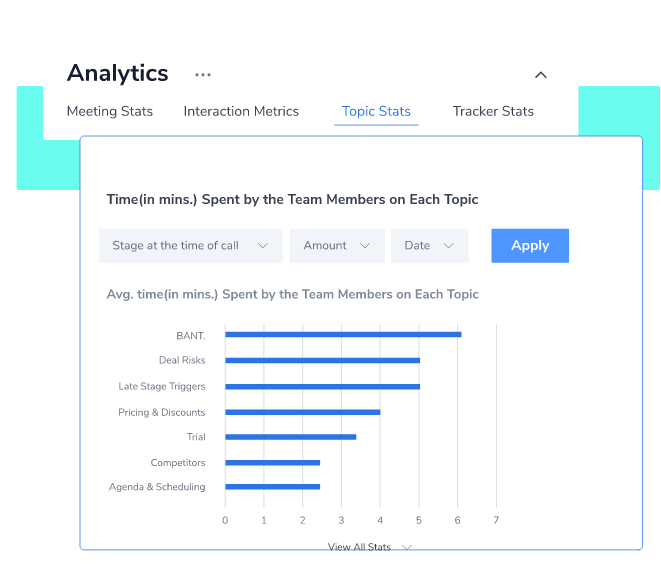 "Send me the details over an email"
This is another classic way used by people to avoid talking to you right now. Here is how you could frame your response to counter this objection-
"Sure, I will send you the details! But before that, what kind of information would you need as I have plenty of information to share. I value your time and I don't want to overload you with a lot of details that you don't need right now"
This will put your prospect at ease and can even warm up to you, since they now know that you not only want to help them with a solution, you also value their time.
"We are already working with X (your competitor)"
Let's face it – You're not alone in the industry. Your competitor would have already tapped into the prospects you are chasing right now. Here is a good response –
It's good, and they too are a terrific company to partner with. We are not asking to rip your relationship with them. Instead, we wish to show you how we work and how we've provided more value than X to our clients. I can even connect you with our existing customers who have made a switch from X."
When you're approaching clients who are already working with your competitors, you need to give them reasons why they should change their vendor without criticizing your competitor.
"This is not a priority"
This objection usually crops up when you have failed to create an urgency to purchase. If they have really understood the consequences of not using your solution immediately, they will surely buy from you. But if that's not the case, you can try the below response –
Response: Thanks for letting me know that. I understand that X (the pain point) doesn't need a lot of attention from you now. Have you thought about what could possibly happen if you don't fix X right now and how long will you be able to bear with this problem?
In the above response, you are first trying to make them understand the consequences from their own words and then agitate the pain point to create a sense of urgency.
How can Rafiki help in handling objections better?
Handling objections is never easy. One wrong move can be the difference between winning and losing a deal. You need all the help to handle your next objection better.
Enter Rafiki – a conversation intelligence platform that is powered by artificial intelligence to make your objection handling more 'data-driven'. It performs instantaneous analysis of your calls and provides rich data such as –
Tracking questions and objections

Study how successful reps handle objections and turn them into revenue

Reduce ramp time, by snippeting those responses to objections; Compile those responses into playlists and share with the enablement/onboarding team

Listen to the objections straight from the horse's mouth from prior customers conversations and catalog them for training

Proactively build product marketing content and update battle cards and be ready

Compare the responses to objections and study what works at various stages of the deal

Compare the time spent by your colleagues on handling objections

Review transcripts of conversations related to objections between all the above stakeholders and the respective clients

In other words, Rafiki can be the perfect tool to help you answer all your prospects' objections with confidence and convert them into paying customers.
To know more about Rafiki and how it can help you, contact us now.