Gong.io is undoubtedly one of the early players in conversational intelligence and revenue intelligence in recent times. Its transcription engine and analytics, along with its first mover advantage, have been its biggest strength, attracting a wide customer base and has become the de facto conversation intelligence legacy vendor. Enterprise customers were willing to hundreds of dollars in monthly fees per user and even thousands of dollars just for setting up basic integrations for call recording and analytics.
However, ever since the pandemic struck, customer needs and demands have drastically changed. Gone are the fly-high valuations, and now with the recessionary fears on the horizon and the capital boom subsiding, organizations are squeezed to produce more value, and with it, the sales team management's mandate is to do even more with far less.
Changing customer demands
Customers have also seen the remote working tools that have brought the cost of recording down and the AI boom that seems to offer even better innovations. Now they demand a modern platform that can not only help them quickly scale the team through innovative and intelligent insightful solutions but also be way more cost-effective and value-driven.
The need for cost efficiency is particularly true for SMBs because the total cost of the outbound stack for their SDRs/BDRs/AEs is getting beyond their reach. Even companies that raised capital have to stretch it for longer until the market bounces back.
Given these market conditions, most customers are in the market again looking to find better alternatives to expensive tools such as Gong, as the need to switch from the legacy vendor to save on the outbound stack and upgrade to the modern AI-based stack has never been higher. To help all those looking for a Gong alternative, we have come up with this guide which will take you through some of the top competitors of Gong, along with their key features, positives, negatives, and pricing.
Why do you need alternatives for Gong?
Gong is a first-generation legacy conversational intelligence tool. Its charm as a first mover of new technology was quite enticing early on, despite the premium pricing. We have seen how first movers are justified in charging a premium and then leveraging modern technology to bring costs down in other markets.
A classic example would be your phone. A decade ago, a premium smartphone costed thousands of dollars. But modern phones, which are priced way lower, offer similar or more advanced features and pack way more punch than legacy phones.
Customers chose products such as Gong early on to leverage the recording and AI-based transcription solutions with the hope that as the cost of AI technology dropped, those would be passed on. However, even as AI transcription has reached human quality with the ever-dropping costs, those cost savings and benefits have NOT been percolating to the customers. Instead, the legacy vendors have continued to keep prior high prices or, in some cases, even increase prices citing inflation or lack of choices and moving upmarket to Fortune 500 customers. The result is that the SMBs are left out of technology upgradation as it is not happening in the Sales outbound stack for the SMBs.
In the current economy, where everyone is asked to deliver more for less, why can't you ask the same from your conversation or revenue intelligence vendor?
And that's where the need for finding alternatives to legacy, expensive systems like Gong arises.
Top Gong Alternatives
Here is a brief summary of the top 6 Gong Alternatives you can consider in 2022 –
Rafiki
Avoma
Wingman
Execvision
Chorus
Fireflies
| | | | | | | |
| --- | --- | --- | --- | --- | --- | --- |
| Feature | Rafiki | Avoma | Wingman | Execvision | Chorus | Fireflies |
| Record Meeting | Yes | Yes | Yes | Yes | Yes | Yes |
| Deal Forecast | Yes | No | Yes | No | Yes | No |
| Customizable Warnings | Yes | No | Yes | Yes | No | No |
| Revenue Playlist | Yes | Yes | Yes | No | Yes | No |
| World-class Transcription | Yes | Yes | Yes | Yes | Yes | Yes |
| Note-taking | Yes | Yes | Yes | Yes | Yes | Yes |
| Post-meeting follow up | Yes | No | No | No | No | No |
| Meeting Comparison | Yes | No | No | No | No | No |
| Chrome Extension | Yes | No | Yes | Yes | No | Yes |
| Free Trial | Yes | Yes | No | No | Available after booking a demo | Yes |
| Starting Plan | $0 | $0 | $60/month/rep | Available after booking a demo | Available after booking a demo | $0 |
#1 Rafiki
Rafiki is the #1 Gong alternative and for a reason. It offers 95% of the capabilities of Gong, such as 100% recording of all calls, highest quality transcription, meeting analytics, sharing snippets or recordings with slack or email, creating playlists, coaching scorecards, etc., that the SMBs actually use. Furthermore, it actually expands the capabilities of Gong that matter to the reps in SMBs, with a much better AI-driven follow-up workflow for the sales rep and a matching, extensive feature set focused on deal intelligence, market intelligence, and coaching intelligence.
Only Rafiki helps your reps to move your prospects from demos to deal with contextual follow-ups that help the rep re-engage with the prospect after the demo. Thanks to Rafiki, all your follow-up messages engage your prospects effectively, making your pitch stick to their memory better. Rafiki is not only a conversational intelligence tool but also a great coaching/onboarding tool. It helps managers ramp up their rep training through a variety of coaching features. Just like Gong, Rafiki also offers easy ways of finding deal insights and forecasts by tracking a customizable list of Ghosted accounts, inactive deals, and customizable topic mentions such as competitors, pricing, etc.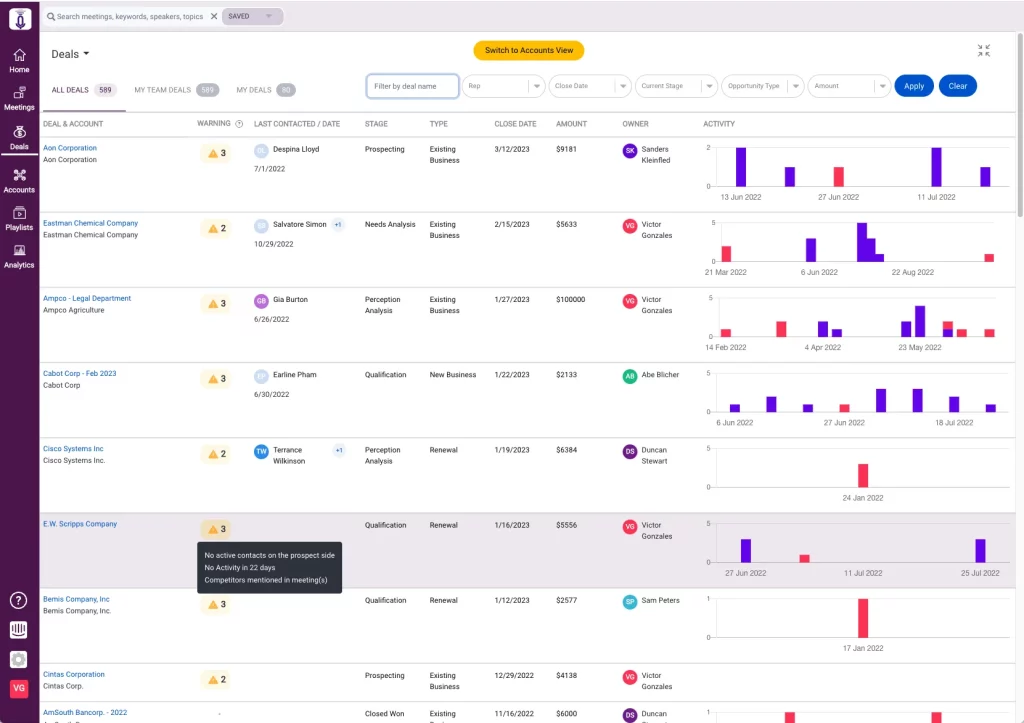 Key Features
Post-demo follow-up: This is a unique feature available only in Rafiki. This automatically re-engages your prospects post a sales call or a demo. It effectively handles this with the help of video-embedded contextual follow-ups.
Meeting Comparison: Another Rafiki-only feature. This lets you compare the topic tracks of any 2 meetings on your list based on multiple parameters like time, teams, and reps. This feature is unavailable on any other platform right now.
Multi-language support: Rafiki can transcribe numerous languages, including English, French, and Spanish, at near human quality. It can also flawlessly handle different forms of English accents, including the US, UK, Australia, Canada, and India.
Advanced note-taking capabilities: Rafiki comes with a built-in rich text editor to edit the notes within the same platform. The generated meeting notes will be sorted by topics and will automatically sync all your edits in real time with the CRM
Share meeting data: You can share your call recordings and transcripts directly with your customers/prospects
Check out the complete list of features here.
Pros of Rafiki
Full features, no compromises enterprise-grade, robust product
Cost 25% of the comparable other enterprise-grade legacy offerings
Availability of a free plan. You don't need to provide your credit card details for the same. <sign up here>
Easy Integration to all of your Conference call /dialers and most popular CRM tools so easy it takes less than a minute
There is a plan for everyone, right from a freelancer to large enterprises and across many use cases and departments as well
White glove support to the paid users without an additional setup cost
The only tool to help you follow up after a call with suggested snippets, and direct customer chat
Comes with a Chrome extension to let you record meetings without the need for a bot
Approved Zoom vendor and Approved by all top CRM vendors
Cons of Rafiki
Does not offer complex multi-departmental configurations needed by very large Fortune 500's complex organizational structure
Massive feature support could seem daunting initially but once the user starts using they find it very intuitive after some time
Support most common languages and accents but not less frequently used languages
Pricing
Check out the full pricing details here.
#2 Avoma
Even though Avoma is widely known as a meeting assistant tool, it's also a highly capable conversational intelligence software. The platform can not not only record and transcribe your sales calls but also summarize the call notes efficiently. Its plug-n-play integrations with CRMs like HubSpot, Pipedrive, and Zoho make it a great choice if you want a great noting taking tool for all meetings, including engineering – not just for sales
Key Features
Meeting management – Automatically prepares agendas and syncs them to your calendar events.
Meeting assistance – Automatically records transcribes and generates notes of all your meetings.
Meeting collaboration – Enables you to search across different transcripts and share key moments with other stakeholders.
Pros of Avoma
Can be integrated with most of the workflow tools, CRMs, and dialers currently available.
The tool is not very difficult to use, even for beginners, even though many complain about the poor UI.
One of the few tools to offer a curated playlist to help train your reps.
A pricing plan for everyone
Cons of Avoma
Touches conversation intelligence on the surface only. Doesn't focus a lot on actionable intelligence
The lack of Chrome extension is a major negative.
There is no call filtering feature. You cannot segregate calls based on most metrics and parameters.
Pricing
#3 Wingman
The next tool on our list is Wingman, which is a popular conversational intelligence tool that focuses on continuously churning out valuable data points based on your conversations with customers. It uses both audio and video recordings to do this. It even determines how far ahead or behind you are in your deal pipeline. A sales manager can track the performance of their team effortlessly through the personalized dashboard. The platform is ideal for small and medium-sized businesses as well but has changed pricing to match Gong of late.
Key Features
Battle cards – A one-of-a-kind feature where real-time prompts show up in the conversations to help the sales rep.
Tags – All your call recordings are tagged by Wingman, making your task of finding objections or competitor mentions a breeze.
Call scorecard – Let you score your team's calls with fully customizable templates. This way, you can build a seamless feedback loop between you and your reps.
Pros of Wingman
Comes with Real-time alerts to nudge sales reps to stop talking for too long
The platform takes a great effort in offering all the important deal information to you. For instance, ​​it even extracts stakeholder job titles from your sales calls so that everyone knows who the decision makers are on a deal.
Easy to set up and use. A flat learning curve.
Cons of Wingman
Price went up to almost that of Gong
It doesn't extend its conversation intelligence beyond the sales use cases.
The transcription is not 100% accurate most of the time.
Many important features are available only in the higher plans.
Pricing
#4 Execvision
Execvision is a conversational intelligence tool that helps sales leaders make smarter decisions through powerful insights from every conversation. The platform is also quite effective in notifying you if any of your customer conversations need review. Based on this data, it helps you offer personalized coaching to your reps. It is the best tool to have if your goal is to optimize sales workflows, boost revenue and elevate the overall customer experience by closing the insights to the performance gap.
Key Features
Smart Alerts: This feature offers you real-time alerts on conversation activities based on pre-created keywords and phrases or accounts. The best part is you can customize the notifications based on your personal needs and interests.
Conversation Cards: This feature matches all your conversations with CRM data to generate intuitive conversation cards that capture call timelines. Any designated user can leave comments on these cards to add more depth to the call.
Customizable Scorecards: With Execvision, you can build fully personalized scorecards that revolve around your coaching and milestones. It even assesses different types of conversations, like inbound calls or discovery calls to tailor the scorecard even further.
Pros of Execvision
The tool works with most of your existing workflow tools and CRMs. The integration is also quite straightforward.
The tool comes with a Chrome extension to record meetings on the go.
One of the few tools that come with a dedicated mobile app.
Cons of Execvision
The pricing is not transparent. You need to book a demo to know the pricing details.
Doesn't have features like Deal Forecasting or Revenue Playlist that are present in most of the other tools in the list.
The tool is quite difficult to use, particularly for new users.
Pricing
Contact the Execvision team for pricing details.
#5 Chorus
Chorus is a conversational intelligence platform from the house of Zoominfo. The tool is ideal for you if your goal is to mitigate all forms of deal risks. The tool gives you valuable insights into your deal pipeline health and helps you understand the shifting dynamics of your customer expectations. It even helps streamline your workforce communication by facilitating quicker and more accurate follow-ups by effectively tracking deadlines and your goals.
Key Features
Recording: Lets you record calls, screen activities, and video calls. You can even share calls or bookmark recordings for you to revisit later.
Outcome-based analytics – Chorus analyzes different aspects and outcomes of customer interactions and offers deal intelligence and market insights based on them. The platform also offers a way to drill into specific parts of this data.
Coaching – The tool offers all forms of coaching, including Self-coaching, peer coaching, and manager-rep coaching. It makes the lives of managers simpler through coaching features like scorecards and playlists.
Pros of Chorus
It not only delivers timely updates but also keeps adding capabilities and addressing bugs.
The tool is feature-rich and has plenty of collaboration features making it an ideal software for a large team.
Comes with unlimited storage. You can store as many recordings as you want in the cloud.
Cons of Chorus
The platform is not beginner-friendly, and it takes a while for a new user to understand it fully.
Not efficient while transcribing multilingual conversations, particularly if the speakers have strong accents.
The pricing is not transparent. You need to contact customer care for pricing and to access a free trial.
Pricing
Contact the Chorus team for pricing details.
#6 Fireflies
Fireflies is a note-taking and conversational intelligence tool that is powered by machine learning. It is quite effective in capturing all your sales teams' meetings and deriving valuable insights from them. Apart from recording, transcribing, and note-taking, the tool also offers smart suggestions for your sales team based on the direction of the sales calls. It even guides your reps with the next steps and actionable items that need to be addressed. The two-way sync between all the popular CRMs is an added advantage.
Key Features
Embed: You can embed the AI transcript generated by Fireflies into any of your workflow tools, including Medium, Notion, Salesforce, etc.
Sound Bites: A smart feature that transforms all the key sections of your sale calls shareable snippets. These snippets can be easily accessed at any time in your dashboard.
Threads: You can leave your comments at any part of the call along with a time-stamped note. This will be quite useful for your team to jump back to any section of the call.
Pros of Fireflies
The tool works with most of your existing workflow tools and CRMs. The integration is also quite straightforward.
All the paid plans come with unlimited transcription credits.
There is a free plan with limited features.
Cons of Fireflies
Doesn't have the extra features(offered by most of the tools in this list) that are centered around deal intelligence.
Has only limited collaboration features.
The transcript editing time is more.
Pricing
Conclusion
Conversational intelligence tools are critical for organizing, managing, and tracking sales calls. Gong had always been a leader in this space until recent times when better and more value-driven solutions started surfacing. These platforms not only offered more advanced features but were also highly cost-effective. Rafiki, for instance, comes with a robust set of features and fits the budget of every type of business out there.
Interested in Rafiki? Sign up for a free trial now.