When your SDR sales team scales up rapidly, you may feel overwhelmed. It may feel like you have no way or time to keep up and be successful. It may feel as though you are always playing catch up without proper guidance. Unless you plan to make getting this guidance, with sales intelligence a priority, you will be frantically playing with guesswork and bringing up the rear. 
What exactly is sales intelligence? 
Sales intelligence is the process of collecting and analyzing detailed sales data (including your outbound/inbound call recordings) to understand the best way to perform a sale. In today's digital world, it is possible to analyze every aspect of your sales process to better understand the non-linear journey towards a sale and identify improvement opportunities.
When done manually, sales intelligence is subject to a lot of guesswork which depends entirely on the perspective of the person who performs the analysis. The manual sales intelligence process takes way too much time and effort but doesn't deliver the promise due to the manual delays involved. By the time a piece of sales intelligence obtained manually reaches the sales team – it will have become obsolete.
Automated sales intelligence, on the other hand, leaves no stone unturned to boost revenue. With an array of features that analyze every aspect of a lead's journey to conversion, it ensures that promising leads don't merely slip away. In today's age of intense competition, automated sales intelligence is not just a priority; it is a necessity that enables businesses to successfully compete and thrive. 
Sales leaders who find a way to dig into the goldmine of customer conversations,  can understand the ups and downs in their sales process better. This, in turn, generates more sales, by identifying segments or agents who are underperforming, areas they need to be trained on, customers who are qualified leads, the list of tactics that help close a deal faster, and more. 
What are sales intelligence tools?
Sales intelligence tools can be classified into three categories. The first one being a sales-conversation-focused repository that collects data from both internal and external platforms for analysis. The second one is a powerful analytics module that transforms collected data into meaningful insights. These two are typically covered by traditional CRMs.
However, the third one, being an automated sales intelligence platform that incorporates and shares the collected sales intelligence from customer conversations back to the sales team and associated stakeholders to help improve the sales process. Only a handful of sales intelligence tools are capable of offering these functionalities in a powerful package, Rafiki being one among them. 
What are the best sales tools?
To ease the burden of choosing the best sales intelligence tool, we have put together this list of tools with a powerful analytics module. These automated sales intelligence tools will streamline your end-to-end sales process from prospecting to conversion and make you fall in love with your sales process once again – 
Rafiki, at its core, is a revenue + conversation intelligence platform that analyzes deals/opportunities, customers, and revenue to manage, measure, and continuously improve your sales processes, every day. It helps businesses identify deal risks, spot improvement opportunities, and understand how to make sales conversations better.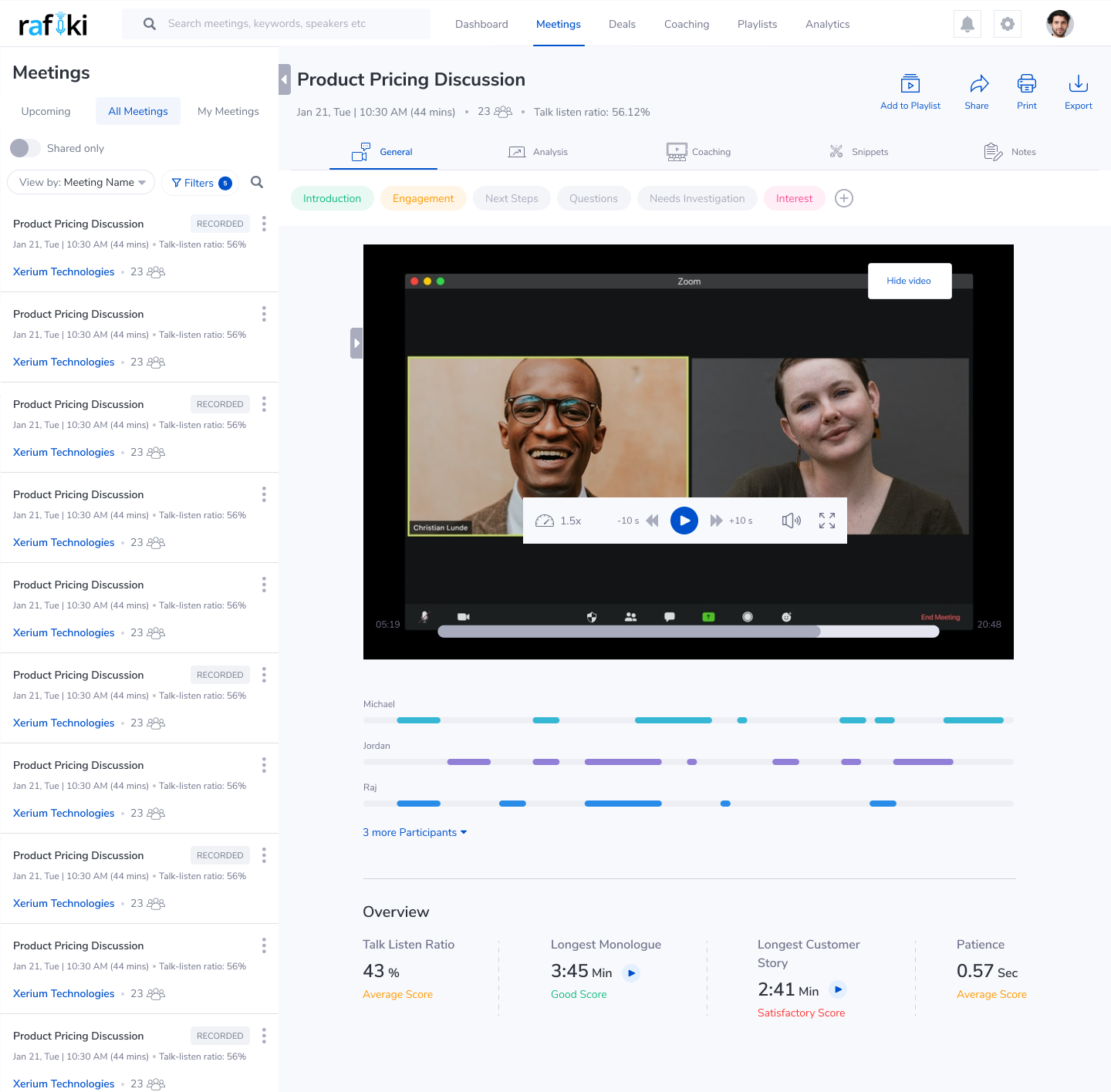 Its state-of-the-art artificial intelligence sales rule engine doesn't merely record and transcribe sales conversations, it understands and analyzes sales conversations that happen across all channels to ultimately speed up deal closure and improve revenue. 
Hubspot's Sales Hub is a user-friendly sales CRM that comes with various functionalities like sales enablement, CPQ, sales analytics, and more. While Hubspot's Sales CRM is straightforward in its approach, a clear differentiator is its advantage of being built on top of Hubspot's CRM, providing a much-needed single source of truth for growing businesses.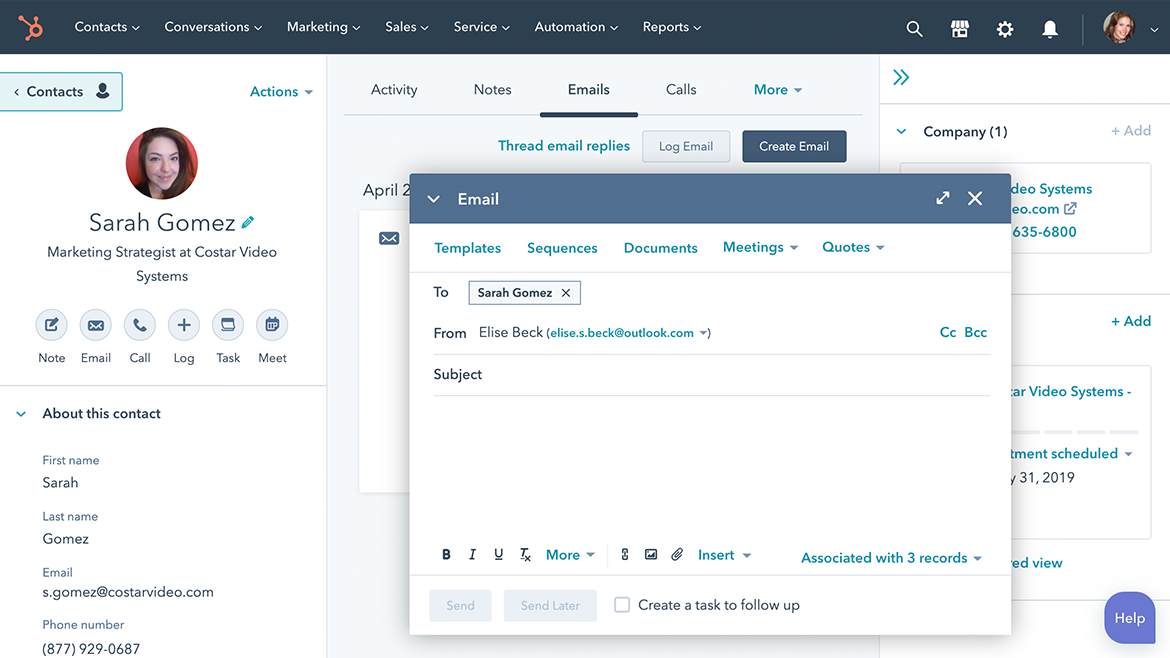 The only drawback of Hubspot Sales CRM is its awkwardly designed interface which makes it hard for its users to edit or add to the cadence after the initial set up.  
LinkedIn Sales Navigator is a version of LinkedIn that was built exclusively for salespeople. It helps SDRs engage meaningfully with prospects and customers by tapping into LinkedIn's professional network. As a result, SDRs can get a sense of their prospect's priorities and make a quick decision as to whether they are a right fit or not from the prospect's profile information.
Frequent updates about saved leads and the posts they share or talk about in the format of feed act as a great trigger for SDRs to follow up. The only problem with LinkedIn Sales Navigator is its lack of automation of certain tasks and analysis which will be helpful for building a scalable sales strategy.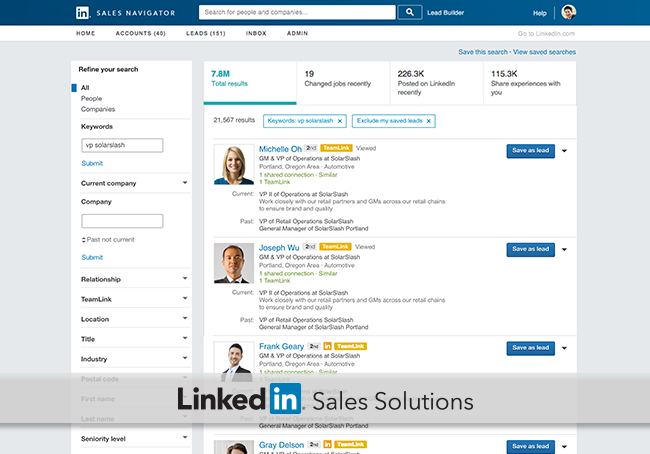 Groove
Groove is a sales engagement platform built with enterprises in mind. It automates manual, non-sales activities, simplifying administration and enabling cross-team collaboration to relieve the burden of SDRs giving them more time to focus on high-impact activities like building meaningful relationships and generating revenues.
The only downside of Groove is that being a new product, it still has some technical kinks to work out every now and then such as data not being logged or auto-populated in a timely fashion.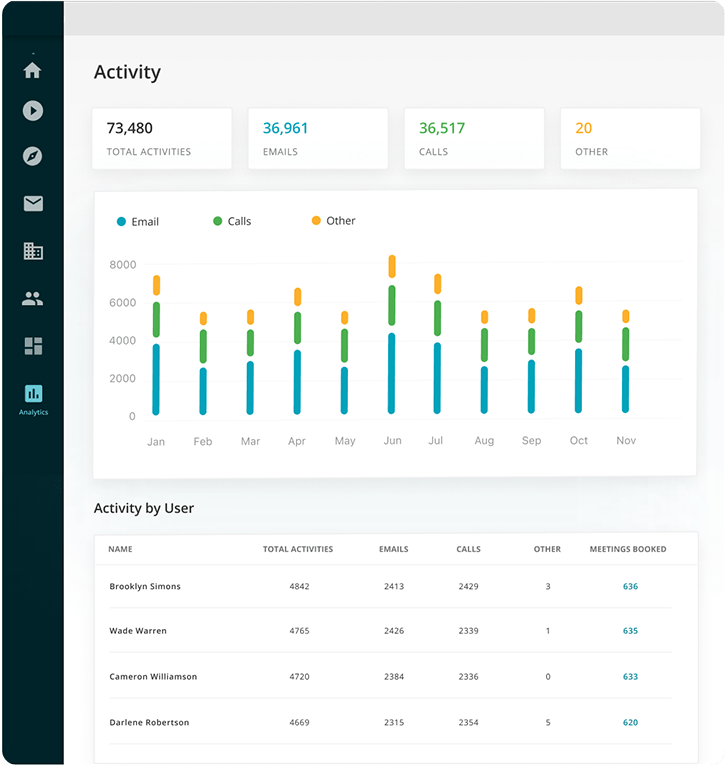 InsideView Insights
InsideView Insights acts as a cheat-sheet-like sales intelligence tool that delivers an authentic source of customer data empowering sales leaders to personalize their outreach and make human connections while prospecting. While it can be a bit clunky at times, the constant improvements made by the InsideView Insights team make it easier for users to overlook them.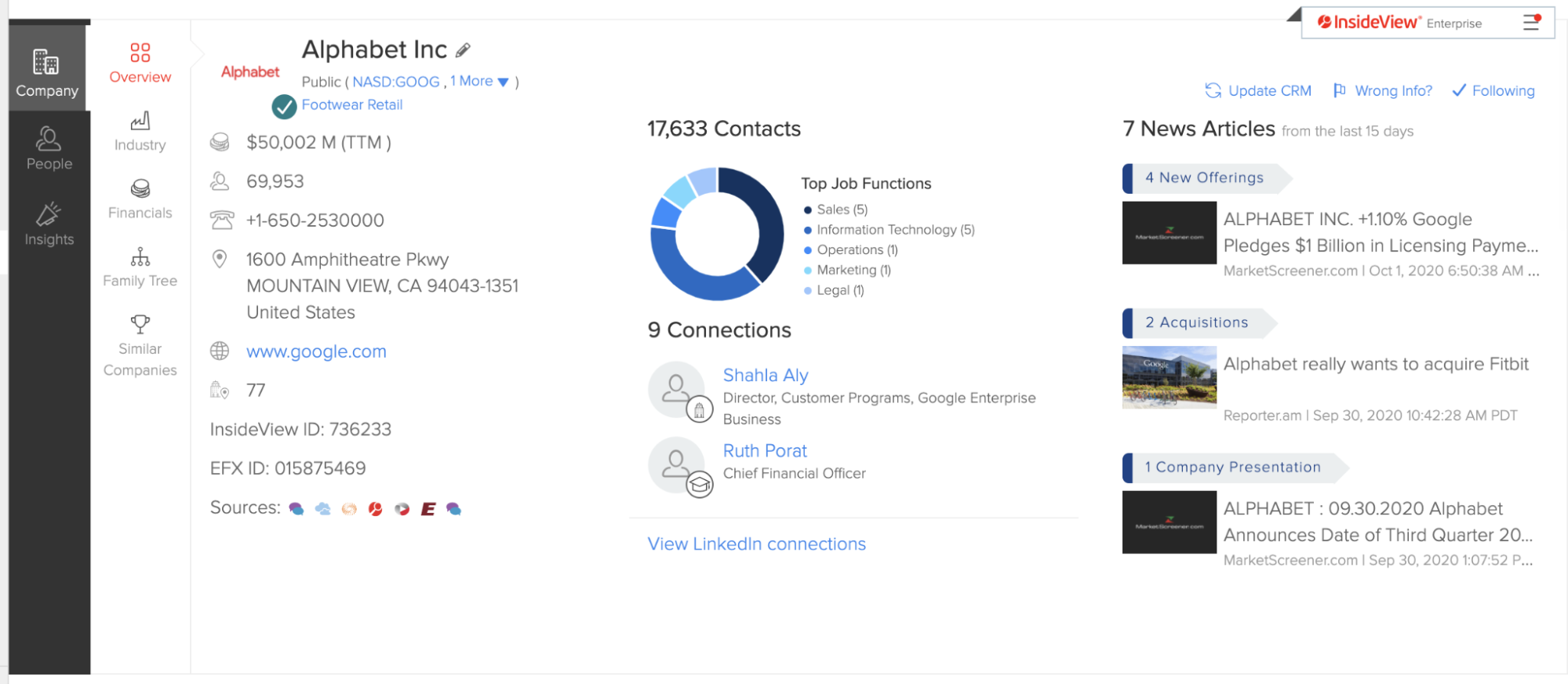 Summary
With all of the sales intelligence tools available on the market, it can be difficult for a sales business to know where to start searching for an automated sales intelligence tool. This is particularly the case if this is the first sales intelligence investment for a business.
However, once a business sees the benefits of real-time insights, seamless integrations, and efficiency automation can bring to their sales team, your sales leaders, and your SDRs, it will be glad for taking the time to get it right. 
If you don't have a sales intelligence tool in place or are currently unsatisfied with the one you use, give Rafiki a try. Take a free demo to see how effortless it is to take control of your sales pipeline.