COVID-19 showed the value of working from home. But long before the pandemic, organizations realized the importance and benefits of remote work.
Global Workplace Analytics & FlexJobs did a thorough analysis of remote work. And they found that during that one year, remote work increased by 7.9% in the US market. The remote work growth during the five-year and ten-year graphs was more staggering – 44% and 91%, respectively. And during the last 12 years, remote work has grown by around 159%.
However, before COVID-19, remote work has been a flexible arrangement for an organization to boost the morale of its employees. Still, now the companies are forced to adopt a 360-degree approach toward how they manage their teams.
Here are a couple of statistics –
As per Gartner's 'Coronavirus in Mind: Make Remote Work Successful!' issue, dated 5th March 2020, 88% of organizations adopted the

work-from-home approach

, and 91% of Asia-Pacific teams chose to work from home at the outset of the pandemic.

According to

Owl Labs

, 31% of individuals mentioned that COVID-19 has acted as a catalyst that allowed them to work from home.
Statista showed that before COVID-19, 17% of the US workforce used to work from home 5-days a week. After COVID-19, the percentage has increased to 44%.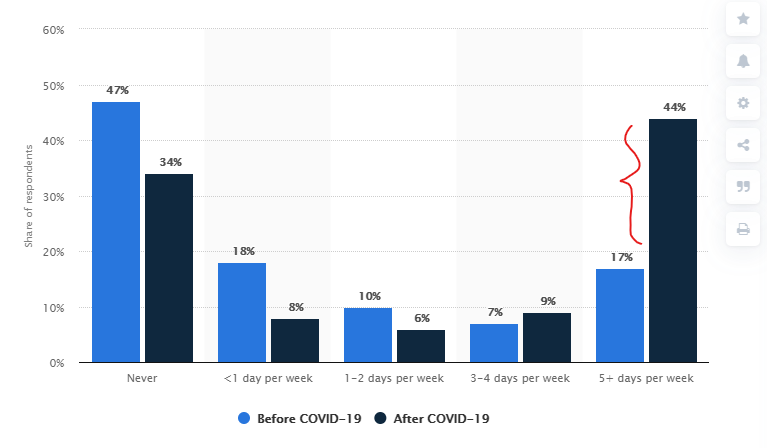 And if you're an organization thriving on organizational culture and teamwork, how would you manage to handle a large remote team? For support functions, you can take various measures like video conferencing, daily status calls, etc. But can you truly handle a remote sales team? Would it be beneficial? Let's find out.
Benefits of a remote sales team (amid challenges)
Amid this turbulent time, organizations have realized the benefits of a remote sales team. Let's have a quick look at the merits –
A remote team generates more revenue:

According to

Global Workplace Analytics

, if half of the workforce in the US work from home during half of the time of their days, a whopping five million working hours would be added to the economy. It also means that the revenue of the US economy would increase by around 270 billion US dollars. Now think, creating and managing a remote sales team is a boon or bane?

Remote work improves efficiency:

A

stunning study

done by the UK's largest money-saving brand suggests that the average UK worker works around 2 hours and 53 minutes productively out of their whole workday. Since remote work lets an employee choose where to work (and as a result, has a direct impact on her work environment), she becomes more efficient. Even if she manages to work 4-5 hours a day, that'd be more than a typical workday's productivity.

 Companies with 100% remote arrangements can acquire and retain A-players:

When you don't need to source prospective employees from a particular place, you're in an advantageous position. The whole world is your workplace. And the chances of finding A-players would drastically increase. And retaining also becomes easy for remote working options. As per the research conducted by

Owl Labs

, 82% of loyal employees stick to their employers for remote working alternatives. 
The best part is from the study done by Own Labs, it was found that 13% of remote workers work in Sales which is higher in terms of any support functions like administration, human resources, and operations.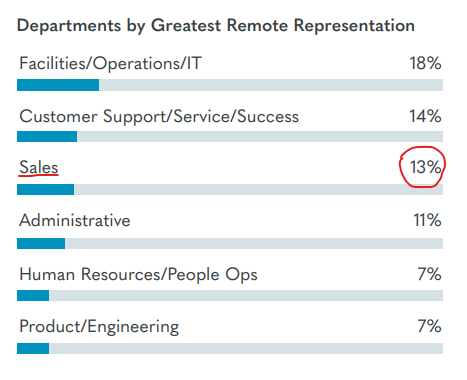 How to manage a sales team remotely?
Remote sales teams can be your assets if you know how to manage them. These top-notch strategies will help you get started –
Determine the benchmark for the team
Having clarity in how each team member would contribute will put each task into perspective. A research study done by a Gallup Poll of German employees found that when the team has set clear expectations, 38% of workers aim to improve their work performance & feel more engaged. Here are a few key performance indicators (KPIs) you can set for your remote sales team –
Percentage of upsell/cross-sell

New leads per month

Customer engagement rate

Minimum deal size

Client acquisition cost per new client
To implement this, stick to one particular metric per person. And make sure that when they present their weekly sales call reports, that particular metric gets addressed. And whoa, you get the benchmark for the next week for that individual in the team.
Having a particular benchmark for each team member improves performance, and your remote sales team becomes effective.
Forge great relationships
According to a Harvard Study, great relationships and higher trust among team members ensure the following –
You can see how a team can do wonders if each team member forges excellent relationships with each other. Building excellent relationships would help the team members support each other emotionally & also ensure effectiveness. 
But that can only happen when you (as a leader) encourage your remote sales team to communicate directly and respect both the strengths & weaknesses of their fellow team members.
Since you'd not be spending a lot of time in the same place, the remote team would need more time to build trust, but here are a few strategies that may help –
Over-communicate (whenever it's required)

Encourage each other to focus on the strengths (and try to curb the weaknesses)

Collaborate and find a sweet spot where you could achieve the desired outcome

Use resources like

GetRafiki

to analyze conversations, replicate the best behavior from top-selling reps, and improve the team selling approach.
When you build relationships remotely, it takes a ton of time, and effort upfront, but the team yields the benefits for a long time.
Invest in the resources for your team to do great work
When you allow your remote sales team to access the right resources (and tools), you give them the autonomy to use their creativity to offer the best solutions to the organization's biggest challenges.
Though you need to protect your data and resources and let your remote team access secured and private networks, you shouldn't micro-manage at all.
Here are a few resources we recommend – 
Create systems and implement sound processes
For a remote sales team, it's essential to build a structure so that the team has direction and clarity. Cisco saved around $277 million by letting their employees do telework and telecommuting.
But if there's no system, no process, ultimately, you won't be able to direct your remote sales team toward the right actions. 
So, what sort of system and structure you should build? Here are a few ideas –
You can use a tool like

ClickUp

to manage all tasks at the same place and ask your team to do the same so that you all are on the same page.

You could also create processes in regards to cold-calling, cold-pitching, how the entire process of capturing the leads to turning the prospects into paying customers would work, etc.

An accountability routine would be useful too. For example, you can ask your team to send you a report daily or weekly. And you could cross-check the details to see whether the tasks got done.
Focus on the specifics of the team selling approach
When you build a remote sales team, your selling approach would be way different from your default settings for selling. According to a study done by Gong.io, team selling rather than selling solo, the chances of closing a deal increases by 258%.
Thus, you need to approach things quite differently. Here are a few things to consider –
Since most of the selling would happen via phone or email, it's crucial to analyze

how

your remote sales team is talking to the prospects (and customers). That's why a cost-effective, conversation-intelligent tool like Rafiki should be the most critical tool in your resource toolbox.

Autonomy is the key to more sales. When you're leading a remote sales team, it's all about giving them the liberty to decide the way they work when they produce the outcome. Micromanaging your remote team would only deteriorate the team's morale.

A lot of conversations would happen via email. You may organize training on email etiquette & telephonic discussions so that they know how to respond when things go awry. You may collect data directly from Rafiki's smart conversation intelligence.
Put your emphasis on team happiness & engagement (and less stress)!
When you help your team collaborate on different aspects of a project, not only the remote team achieves the desired outcome, each individual feels a sense of happiness. As per the American Psychological Association, organizations lose $500 billion due to workplace stress. 
When your remote team feels happy and connected and collaborates with other remote teams, team engagement increases. 
As per the study done by Owl Labs in the year 2019, it was found that remote workers are happier at work.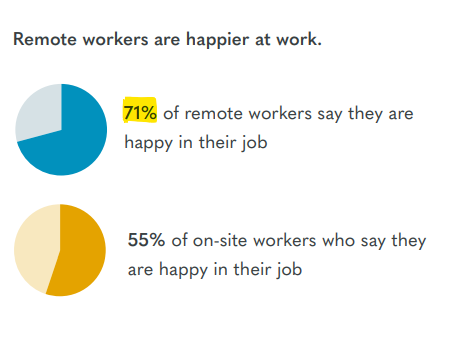 Collaboration also helps. If your remote sales team and remote marketing team collaborate, you would be able to generate more leads and would be able to increase the revenue of the organization 
Take the sales call reports seriously (and create sound feedback loops)
The cost-effective tool GetRafiki allows your sales team to improve their performance. Here's how –
Rafiki would analyze each sales call and suggest improvement points.

Based on the improvement points, your remote sales reps can work on not-so-perfect parts of the call and double down on their strengths.

Rafiki would help you close deals and will improve the performance metrics of your remote sales reps (and as a result, you'll save a lot on training costs)
It's essential to take the sales call reports generated by Rafiki. You'd be able to save time, effort, money, and energy to improve the skill level of each remote sales representative. As per the Topo research, it takes 18 calls to connect with a buyer.
To err is human. But that doesn't mean your remote sales team needs to stop there. With Rafiki's sound feedback loops, they'd be able to improve their calls 2X, 3X, and even 10X.
Ensure productivity & help them strike a healthy work-life integration
The best way to make your remote sales team productive is by following a bunch of practices –
Firstly, your remote sales team will feel excited to work during that specified time. And you wouldn't need to create any external carrot & stick model to keep them motivated & productive. Plus, as per the

Global Analytics Report

, on average, you'd be able to save $11,000 per employee by letting them work from home (WFH).

Secondly, the performance of each team member would drastically improve.
There's no work-life balance, only work-life integration. Accountability is a vital factor when your remote team is working from home (WFH). And it's equally important to let them handle the home front whenever it's required. If you allow them to integrate their work & life, 'how to manage a sales team remotely' wouldn't remain a question anymore.
Conclusion
From the above discussion, we're clear that the value of a remote sales team can't be overemphasized. Here are three critical factors you should remember while managing a team working from home –
Since your remote sales team doesn't bump into each other, your team selling approach should allow the team members to keep a virtual chat messenger open so that they can talk with each other whenever it's necessary.

Always run a competitive sport among your remote sales team members. Even if it's crucial to collaborate, healthy competition always pushes remote sales members to outperform their past performances.

Pay attention to analyzing, improving, and enhancing your sales edge.

GetRafiki

or Gong.io  could help.